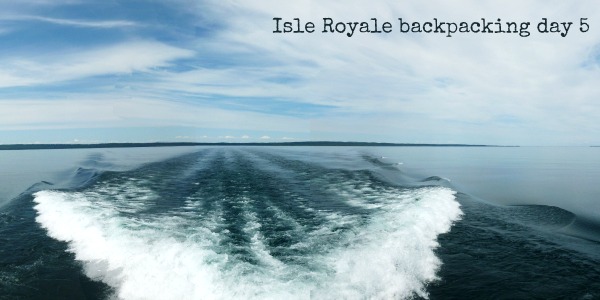 3 Mile Camp to Rock Harbor: Isle Royale Backpacking Day 5
Over the extended Memorial Day holiday 2012 Curtis and I met up with our favorite backpacking Midwestern friends – Jacquie, Dan, Kris, and Kate – to spend 5 days backpacking Isle Royale National Park. It was amazing to get to one of the US's least visited national parks so near to our alma mater Michigan Technological University and once again feel the chilly breeze, see snow hardy forests, and smell fresh waters of lake superior.
Navigate to the Backpacking Isle Royale Page to read about other days of our trip, or continue on to read about hiking and our boat ride back to Copper Harbor on day 5…
Waking up on the 5th and final day I could not believe we were already leaving the island. Not to say I wasn't looking forward to pizza and showers and sitting, but since we had been planning this trip for what seemed like FOREVER it was hard to believe that it was already over. Sad stuff really, but we hadn't time for that, there was more hiking to do to arrive at Rock Harbor to catch the boat!
Instead of walking back on the same trail we walked in on the first day (the Rock Harbor trail) we went up to the Tobin Harbor trail. It is a slightly longer hike then the Rock Harbor trail, but the Isle Royale "Old timers" we meet on day 3 had recommended it to us as being much easier and DRIER of a hike than the soggy Rock Harbor trail. Not to mention we would get to see some new stuff, which is always fun.
It was a much drier hike, and the trail spit out near the Rock Harbor Seaplane dock which had some awesome interpretive signage about the Spiny Water Flea. The spiny water flea is one of the invasive species around Isle Royale, threatening to outcompete the native zooplankton/fish in the ecosystem. Isle Royale is trying to make sure they don't get into the inland lakes, asking that you don't cross contaminate waters from Lake Superior into the inland lakes from canoes/water filters/etc. This particular sign was great because it pointed out the spiny water flea's naturally 80s-tastic look and tied that into the time in which the fleas first were found near Isle Royale (also the 80s). I included a snapshot of it in the photo gallery below
The ride back to Copper Harbor on the Isle Royale Queen went much smoother then the ride out, no fog, no horrific waves, and a delicious green tea from the concession stand. And, as you pull into the mainland you are greeted by those crazy yoopers at one of the local restaurants doing a kick line dance (apparently to draw in customers), which is definitely a unique experience for finishing up a backpacking trip!