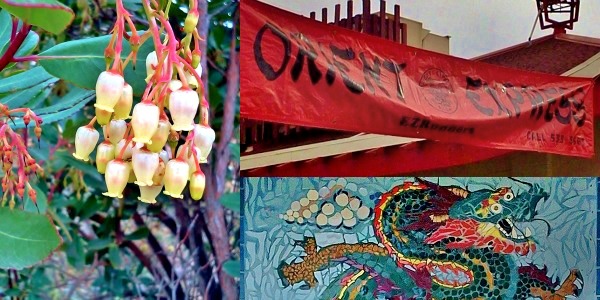 Orient Express Chinese Camp, CA – 4 Mile Race
For the last 9+ weeks (in theory 9, but Chirstmas and a stomach flu happened in that same time frame, so you know…) I have challenging myself to follow a Couch to 5K program. A Couch to 5k program, if you are not in the know, is a gradual way to take yourself from being a lazy couch potato and turn you into a 5K racer. Which may seem weird for me because I have been running since high school and ran my first half marathon last year – but my left knee has been bumming out since last backpacking season (ugh, downhill of doom!) particularly when running. So, being the self-diagnosing person I am, I decided that a couch to 5k was just the sort of thing that would gradually have my knee restrengthened and reinvigorated for running.
Couch to 5K training
I downloaded the C25K app from RunDouble on my Android, which I really enjoyed because:
It forced me to both have a 5 minute warm-up walk and cool-down walk, which I think is really good for the knee;
It told me when to start running and slow to a walk, which is unnecessary when you are just running for 20 minutes straight, but makes things SO much easier when you need to remember to run 90 sec, walk 1 min, run 5 min, walk 3  min then repeat; And,
It kept me informed of my pace using GPS, so I actually knew how fast I was running.
Overall I believe it has been a good success, I have been running about 3 times a week, been doing yoga twice a week and then been doing some sort of winter sport once a week since the new year without the really nagging pain that had been popping up prior. I still really want to create a stretching routine and plan for next year's hiking season – but one thing at a time. And since I completed a Couch to 5K I decided that one thing I really needed to do now, to feel really accomplished, was a 5K!
Orient Express 4 Mile Run
Location: The Elementary School in Chinese Camp, CA
Course: Down Red Hills Road past the Elementary School, right onto Sims Road, right on Hwy 120, right back onto Red Hills Road then finish at the elementary School
"Lucky" for me I saw in the local paper that there was a 4 mile race happening just down the hill from us… which is you know only about a mile (why do I do this to myself?!) longer then a 5k. The (28th annual) Orient Express Run is sponsored by the Sonora Rotary club to benefit the Special Olympics. Since the nice people at the Rotary assured me via email that I would receive a polytech tee shirt still, even though I was just deciding to do this the day before the race, on Friday night I decided to just go for it. Plus it was a good as an excuse as any to carb up on some spaghetti that evening, which is always a good time.
The Orient Express has 2 events: The one mile, where some 8 year old kid ran about a 5 and a half minute mile (pretty amazing to see!), and the 4 mile afterwards. The 4 mile course goes downhill the first mile and then rolling/gradual hills for the next three.  I decided to run too fast on the first mile, since that was my only chance at working with gravity, and then slowly braced my back to the finish line – delightfully surprised that a local school marching band made an appearance at mile number 2 to cheer us all on!
Overall I ran it in 33:15 (under eight-and-a-half minute miles!) and got second place in my gender/age group – a perk of going to a nice little local race. But if you are listening Sonora Rotary club, try to promote just a bit up in Groveland! I am certain with minimal effort you could get a few more people to join next year!