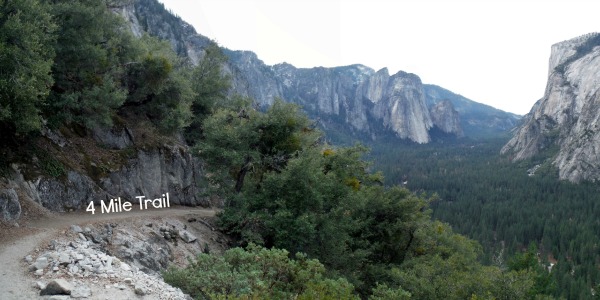 Yosemite During the Dry Winter & Hiking the 4 Mile Trail
The news for the last month has been inundated with tales of polar vortexes, snow closing down highways in Atlanta, and snow days for kids and adults alike… on the east coast. Here on the west coast we are in the middle of in the middle of a critically dry winter, meaning an alarming low amount of snow pack in the high country, lowering reservoirs, and (from my point of view while standing in Yosemite Valley) dried waterfalls. Needless to say, you can not expect the usual winter activities – Snowshoeing, skiing, etc – to be available when visiting the Sierra.
Despite the lack of snow many roads and passes remain closed, making it a rare opportunity to hike, without any winter aids, to iconic park locations. You can hike trails to the giant sequoias, up to snow creek, inspiration & dewy points. Even on the south face of the valley, where snow takes the longest to melt away, it is possible to hike up the four mile trail to Glacier Point. Best yet, you get to share the views only with your fellow hikers – which tend to be a pretty cool bunch (am I right?)!
4 Mile Trail, Yosemite
Distance: 9.6 miles round trip, All uphill half way, and downhill on the way back. The switchback are pretty epic, but make it so the trail never gets too horribly steep.
Trailhead: Park in the pullouts on the valley loop road, appearing after cathedral beach. Map
In the last couple of days, a week since I hiked the 4 mile trail, we have gotten some rain here in Groveland – the first storm in months – so there is some snow now. My bet – you still can't cross country ski or snow shoe to glacier point for badger pass, but you might reach a point on the four mile trail were snow/ice covers the trail.  Bring traction (crampons/snowshoes) and proceed with caution.
This is the first time I have hiked the 4 mile trail, which has been called one of the "Most Panoramic" trails in the valley. I guess I never saw the value in walking up an exceeding large hill just to get views of somewhere (Glacier Point) I could and have driven to many times. But, looking at it as a hike, you do get a vista look at the valley around almost every other switchback – which is crazy! For someone looking to spend all day enjoying views and getting in a good hike then I can see the value.
But in the winter – with Glacier Point Rd closed – the destination is the cherry on top of this snow less ice cream Sunday. My advice: if the conditions permit it, and you are able, DO IT!
More photos in the Gallery Below: