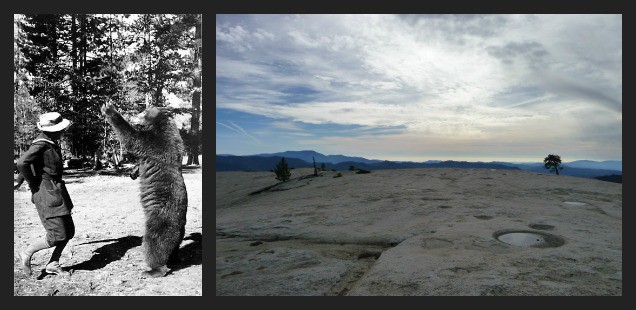 A Historical Fact Finding Mission on Devil's Dance Floor
Spoiler Alert: There are far less devils and dancing than initially anticipated.
Devil's Dance Floor is a named peak that floats tantalizing above the Big Oak Flat Road and Foresta area slightly off trail.  It's hard to not want to visit something named "Devils Dance Floor."  And it isn't the worst off trail hike you can find in the area – but I will elaborate more on the hike, conditions, and it's quirks in tomorrow's blog post… For now I just want to focus on that odd name.
Thanks a mixture of hearsay, limited geographic knowledge of the old Big Oak Flat Road alignment, and my overactive imagination, I felt pretty certain that this granite dome feature was named somewhat literally. I imagined this marvelous large dome near the alignment of the Big Oak Flat Rd back when people were still taking excruciatingly long horse drawn carriage rides in order to visit Yosemite Valley, why shouldn't some entrepreneuring person set up an unique establishment for dancing on the dome with the devils?
Sadly, after hours of online sleuthing (it's been one of those Sundays) I'm pretty sure there was never a granite dome dance hall tourist attraction here. The old alignment (pre-1940's) of the Big Oak  Flat Road did run close to the Devil's Dance floor area – winding past Gin Flat (the place for which the Gin Flat Ski Cross Country Loop is named after),  down to Tamarack Flat (now a campground), and then working it's way down towards Yosemite Valley pretty much parallel, but at a higher plane than the current Big Oak Flat Rd. The Big Oak Flat Road (1955) by Irene D. Paden and Margaret E. Schlichtmann has very in-depth descriptions and maps from the original road alignment – Very in-depth. So in-depth that since she didn't mentioned any sort of Dance Hall on route I think it can be assumed it wasn't really a thing.
So why is this place named Devil's Dance Floor? According to Yosemite Place Names by Peter Browning the place became to be known as Devil's Dance Floor after a bunch of guys from the Cascade Creek Camp hoisted a Model T on some poles and carried it to the large flat expanse of granite in the 1930's. According to the book someone wrote it looked like they were doing a "Strange dance of the devils."
Yep, some kids pulled a common high school prank, maybe got in a good pleasure ride on the smooth granite dome, and now we call it Devil's Dance Floor.
Blog detailing the off trail hike to Devil's Dance Floor in tomorrow's blog post!
 – Cover Photo, NPS ranger naturalist dancing with bear (via YNP) & Devils Dance Floor (my own)  –