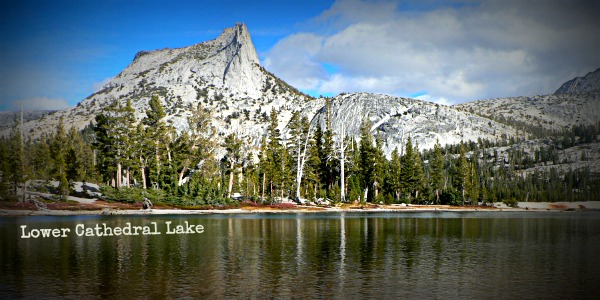 Lower Cathedral Lake Hike – A late fall hike
This summer was 'The Summer of Backpacking', I think we completed over 200 miles? It was awesome! But since we have been going for such long distances it has started to cut into our day hike time – I mean how will we complete EVERY day hike in the ENTIRE park?! Just kidding – but really, there are so many good ones! One of the top day hikes I wanted to do was this one, to Cathedral lake, and actually it was an awesome time to do it – not too crowded, saw a tiny bit of snow, & excellent clouds.
Lower Cathedral Lake Day Hike
Lower Cathedral Lake Trailhead: Tioga Rd / Hwy 120, on the West side of Tuolumne Meadows by the Cathedral Lakes sign. Parking here is pullout/parallel and usually a mess so you should see the line of cars as you approach.
Distance: ~7 miles (out and back). climbing mostly in the hike "out", &  descending in the back "back"
We started hiking sometime in the early afternoon, and ended up back down just before dusk really started. Apparently this is a SUPER busy trail in the summertime, and although we were never too alone we never felt swarmed.  Additionally it was awesome to hike up the hills in the cooler temperatures, I love fall.
To be truthful we only went to Lower Cathedral Lake (it has it's own separate little chunk of tail) – since it was beginning to get dark with the snow clouds rolling in… True story: the park closed the pass the next day from the snow storm overnight. Perhaps sometime when the pass is open again we will have to return to compare the upper Cathedral lake to the lower one ;)