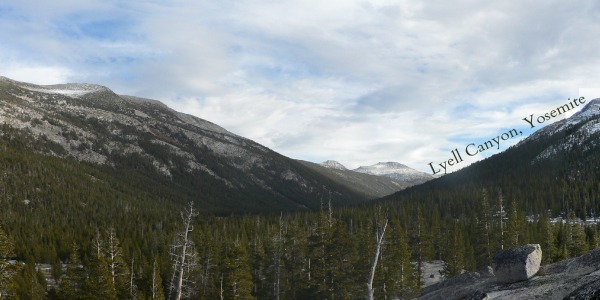 Private Autumn Exploration of Lyell Canyon
I headed up Tioga pass a week and half ago hoping to find some snow and frozen winter scenery – which was pretty silly considering how many dry days in a row we had had prior. But today, after a brush of windy wet weather, Tioga Rd is currently closed.  I guess that makes this trip to Lyell canyon perhaps my last trip out of the high country for 2013? Time to get the cross country skis and snowshoes ready!
Lyell Canyon Hike
Trailhead: To the south of Tioga Rd, in Tuolumne Meadows between the gas station/store and Lembert Dome, turn onto the paved road. If this is named, I did not see it. Past the ranger station there is a large parking area on the left side of the road. Across the road from the parking area is the big John Muir Trail sign.
Distance: I hiked 4.5 miles (2.25 out and back), to a nice "DIY" lookout. Otherwise this trail is as long as you want, like a short easy mile and half hike to the twin bridges and back.
Getting to the Lyell trail after the parking lot requires a couple of turns, which are very well signed and pretty obvious. I say this because I looked at Yosemite Hikes before leaving, and they made it seem like a situation, which it is not! If the sign says John Muir Trail – you want to go that way. If the sign says Donahue Pass then that is  the correct direction (that is the pass out Lyell Canyon if you did not know).  If the sign says Lyell canyon, and you still cant figure it out… go home, you're drunk.
Lyell Canyon is said to be a busy trail in the spring/summer, and I believe it. It is a nice leisurely trail and arrives quickly to the viewpoint at the twin bridges. Luckily for me, late fall is a significantly less busy time. Once I passed twin bridges I only saw one other person.
I knew twin Bridges was a good scenic spot but past that I did not know when I would hit another good vantage point. Much of this first section of Lyell canyon in in the woods, and the canyon walls are not yet very rugged. Passing over Rafferty Creek was anti-climatic, as this was still dry from the summer, and I loosing daylight hours quickly (#ThanksFall). As it so happens there are 2 great spots within a mile of the second bridge crossing – one on the trail, and one up a granite outcrop to lookout.
First, the meadow view from the trail. You will see it. It will look like this:
Second, this was almost exactly one mile from the Rafferty bridge, I noticed a granite outcrop to the right of the trail. I had told myself I was going to turn around at 3:30 to allow enough time to hike back before dark, and this was encroaching quickly so I decided to try and hoof it up there for my big hike finale.
Going straight up the front is tricky, especially in the snow, but swing more south and it gets much much easier to hike without having any climbing skills. From the top I could view back towards Tuolumne meadows area and down Lyell Canyon. Unfortunately there is still a bend in the canyon that blocks any views of the Glacier, but it it still very satisfying to get out of the canyon and get this overlook.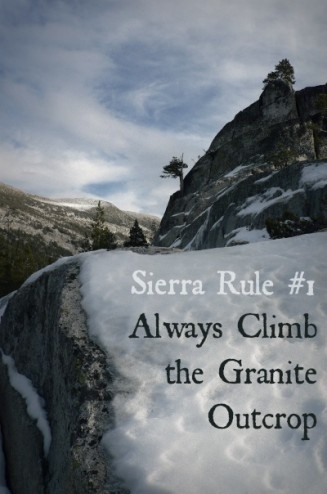 After briefly enjoying my view (see the image at top of blog post, & in the gallery below) I hurried up to get back to the car before dark. Next time I will plan more time to explore Lyell Canyon for longer, and find that Glacier. Next year?