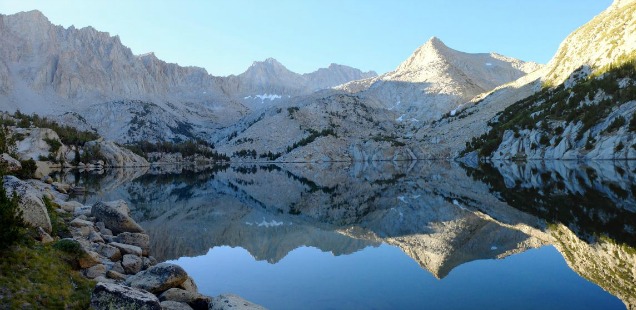 Baboon Lakes, John Muir Wilderness: Rugged Glacier Carved Backpacking
Thank you, glaciers.
Curtis attended a lecture detailing new dating techniques used on Sierra Nevada alpine glaciers a couple of weeks after our backpacking trip to Baboon Lakes. He reported back that Baboon Lakes was featured on one the slides as an example of glacier carved beauty. Well yes, of course.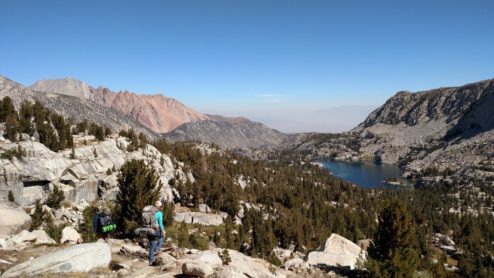 Although evidence of glaciers surround you in the Sierra Nevada Mountains, it is too easy to forget to say thank you to the forces of nature that formed these places. While backpacking up to Baboon Lakes we were walking in the path of glaciers, taking photographs on top of erratic, and shielding our eyes from the shiny gaze of mirror smooth polished granite. All very cool things.
Saying thank you to our shared environment is even more important this post-election thanksgiving season. The value of public lands for ecosystem benefit has been called into question under an official party platform. Under the new president-elect climate change, and more generally science, is going to be an issue less of fact, than opinion.
Pushing politics completely aside, IT IS Thanksgiving. So, why not just say thanks for the heck of it, right? Right.
Here are ways I am saying thank you:
Speaking up for Public Lands.
Reading more science and learning more about those innovating how to make that science accessible and interesting– have you seen these watercolors?
Investing time and money in to places I enjoy! For example in Bishop, on your way to Baboon Lakes next summer, stop into the local shops, breweries, and restaurants. Mountain Rambler Brewery is highly recommended. Get the vegetarian ruben if they have it. Do it for the reduced carbon emissions. JK, do it because it is super delicious.
Backpacking Baboon Lakes, Inyo National Forest
Distance: Unfortunately, my GPS watch had run out of battery before starting. Trails measured about 10 miles out and back. Other maps estimate it at about 8 miles. Short and very steep! Don't forget to pick up an Inyo Wilderness Permit before backpacking to this one.
Trailhead: Backpackers need to park their cars before the "No Overnight Parking" sign on the side of the road. On Labor Day weekend we couldn't have found a parking spot past that sign anyhow. No bear lockers available at parking, no restroom at the trailhead. Road closes for winter (sorry I am posting this at the wrong time of year, mark your calendars for next summer?!) Map
Here is the one thing you should probably keep in minds as you head to Baboon Lakes: 10,978 feet in elevation.
Yep, this is one steep little trail. Especially if you haven't hiked any high elevation trails in a while… hahaha-me-hahaha. Luckily with a group like Trails, Route, Curtis and myself, I can allow them take the lead, while I "took in the views" (& caught my breath). Bonus: this was a good warm-up for the longer Lyell Glacier Hike I was going on a couple weeks later.
The trail starts near the Sabrina Lake Dam, then snakes you parallel the lake, up, then around a boulder oasis until reaching Blue Lake. This was a last minute Labor Day trip, as Trails has better explained on her blog, so we did not choose a final destination until after we arrived at Blue Lake. We waited by the trail fork for a sign about what direction to go, which appeared as 3 separate groups choose the right leg of the fork. Baboon Lakes it was. Good choice!
The Baboon Lakes trail is not marked on Quad maps, but is drawn on the Tom Harrison Map. It does have the feel of a roughed in trail, maybe newly made from a use trail into an official trail route? Steep in sections, lots of forest, more steep, a moment of "Are we at a higher elevation than the lake?" (yes), and then… Glacier carved granite wonderland.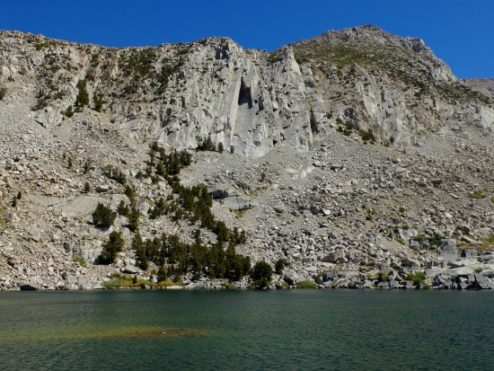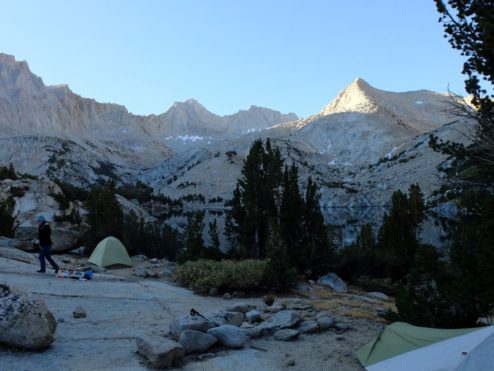 We camped by the first lake in the Baboon Lakes Chain. We scored this particular lake to ourselves, with other earlier hikers having already moved on and up to the other Baboons.
Besides the obvious magnificence of the scenery, Baboon Lake features SO MANY tiny fish, a small number of pikas well hidden in a boulder field, and that sweet thin 10,000 ft in elevation air.
So, once again, thank you glaciers. I'm certain Baboon Lakes wouldn't have been the same without you. More photos below.