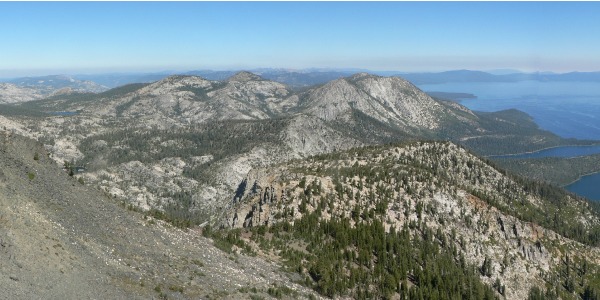 Backpacking Cathedral Lake, Tahoe Desolation Wilderness and up to Mt Tallac
Why do I go backpacking? I go backpacking because I want to get away, to feel the air in my lungs and the burn in my legs, to connect with my hiking partners, to find something new and different, to explore, and (of course) to visit some very beautiful places. But backpacking is nothing if not practical – carrying everything one needs all in one backpack – and sometimes what you are backpacking for is a practical reason… such as a cheap abundance of camping spots. Not going to lie, that was the key motivator when planning this trip in Lake Tahoe's Desolation wilderness.
We needed a spot to stay in Lake Tahoe, one of California's busiest outdoors destinations, and it was a Saturday night in the summer (August 10th to be exact). I had gotten us a sweet camping spot the night prior at Lake Tahoe's Nevada Beach, but we would have to drive into the Eldorado Forest and pay another $30 just to get the last available Saturday night camping spot, which wasn't working for me. Instead Curtis and I choose the nearest backpacking "Zone" (the Desolation Wilderness permitting system's oddly intense terminology) and spent the night at Cathedral lake, a short 3 mile hike down the trial, and then was able to be on of the first day hikers up Mt Tallac the next morning. Classic Tahoe trip and a peaceful night of camping.
Backpacking Cathedral Lake, Tahoe Desolation Wilderness
Trailhead: Mt Tallac Trailhead, Follow signs for the trailhead on Mt Tallac Rd off of Hwy 89 south of Emerald Bay. The parking lot is very busy, so plan on walking in more unless you get lucky. Note for backpackers: No Bear Bins! Map
Distance: about 3 miles to Cathedral Lake, then just under 2.5 more up to the peal of Mt Tallac. Total distance from trailhead, up to the summit, and back is between 10 and 11 miles (this is from my gps, many other sources says it is just over 2 miles to Cathedral Lake).
First up lets discuss the Desolation wilderness permit system – check it out here – where instead of having a limited number of trailhead permits, they instead have split the wilderness into permiting "Zones".  Each zone has a limited number of spaces that you need to reserve for your first night backpacking, making it seem more like you are reserving your car camping spot then preparing for a typical backpacking adventure. But since the Desolation Wilderness is one of the most heavily used wildernesses in the US this might be necessary to assure you are not camping on top of other people. The zone we picked, #30 Cathedral, only had 2 spots to reserve allowing Curtis and I to get the place to ourselves.
We started hiking late, at 5pm, after eating a large amount of Mexican food (and sharing a margarita). Hiking on a full stomach is never a super good idea, but it was a short distance (we covered it in a little over an hour), and our late start allowed us to obtain some premium parking at this busy trailhead. The hike is steady 1000ft gain to Cathedral lake, which will get the pulse up, but not slow you down too much.
I had hoped, from looking at Google Earth, that we would be able to see lake Tahoe/Fallen Leaf lake from Cathedral lake, but no dice. Arriving at the lake we instead found a small, but peaceful lake, with a row of cathedral like peaks looming overhead. We choose what appeared to be the only good camping spot (away from water and the trail) for two people on the South side of the lake, and explorred around the tiny lake a bit. It was a quiet night, and an enjoyable camping spot with minimal backpacking needed. Maybe a good mini-trip to take a first time backpacker?
The next morning we set off for a day hike up to the summit of Tallac. The real elevation gain on the hike occurs right after reaching Cathedral Lake, up a series of switchbacks. Even before reaching the summit the views are pretty amazing: In the early morning on Lake Tahoe we could see hot air balloons taking off, and around the bend we could begin to see the peaks and valleys of the desolation wilderness lay out before us.
Hiking up Mt Tallac was the only hike we did during our weekend in Tahoe, and I believe  it was an amazingly good choice for those only doing one hike. It can get busy up there, but for a minimal amount of distance the panorama (See video above) of the lake and the surrounding mountains is amazing. & If we were coming back sooner, hiking up that mountain with a wilderness map could make for a very nice point to find inspiration about where to hike next time.