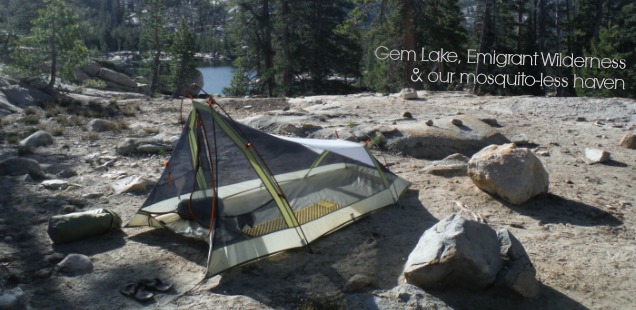 Backpacking Gem Lake, Emigrant Wilderness: A Tale of Lakes & Mosquitoes
On the first weekend in June I went on my second backpacking trip into the Emigrant Wilderness. I wanted to do a short trip to test some gear (a new sleeping bag & water filter!) before my trip on the Tahoe Rim Trail (next week!!!) but not have to travel far from Groveland. Plus, it seems odd that I have not explored the Emigrant more.
Overnight Backpacking to Gem Lake, Emigrant Wilderness, Stanuslaus National Forest
Trailhead: Crabtree Trailhead is a popular entrance to the Emigrant Wilderness. To get there start heading up to Dodge Ridge Ski Area on Highway 108, turn right towards the cross country ski trails/experimental forest (just before reaching the lift area), for this until a tee, then turn left onto Crabtree road and follow the signs for the trailhead. It is a gravel road part of the way, but is one of the best maintained gravel roads I have seen in the forest. Map.
Distance: 10-ish miles out to Gem Lake, 20 miles total. It could be made into a loop with nearby trails but I wanted to avoid walking past more meadow/marshy area for reasons stated latter in this post.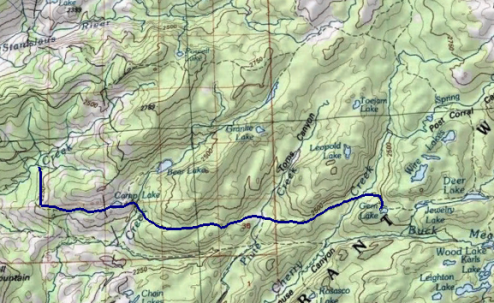 Reasons why backpacking to Gem Lake in early June is an awesome idea: Low elevations and therefore easy snow-free hiking, cooler temperatures, freshly stocked fish in the lakes, and (of course) the wonderful wilderness filled with granite views and mountain lakes. I am impressed by the amount of granite cliffs that were omnipresent on this trip. For a lower elevation hike this has a nice high elevation feel to it.
Reasons why backpacking to Gem Lake in early June is a terrible idea: Mosquitoes. These are patience testing mosquitoes that swarm at all times and places. Remember to bring the spray, bring the bug net, and prepare to vindictively swat those suckers in the tent before falling asleep. Also, if it was not such a low water year, I could imagine the crossing at cherry creek right before heading up to the lake would be swift and deep (as it was it was chilly and reached my knees).
This is a popular trailhead in the Emigrant Wilderness, offering a straight shot into the heart country and passing by a maximum number of lakes. The trail offers a multitude of breathers from climbing, and even we stopped running from mosquitoes long enough to enjoy the views at Camp Lake and a Marmot at Piute Lake. Unfortunately, per a review from Curtis, Gem Lake in not the most quality fishing lake on this trail. Which is too bad because the fish were jumping out of Camp lake to taunt him, and we heard really good things about Deer Lake a few miles down from Gem Lake.
All in all, I think I might visit the Emigrant sometime soon… maybe a bit after the main spring/summer swarm season calms down. More pictures in the gallery below: