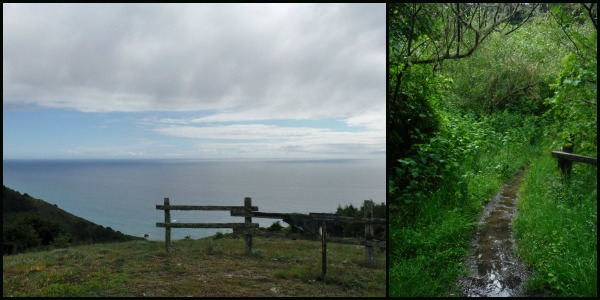 Backpacking Glen Camp, Point Reyes – Everything is Damp (thanks ocean)
Not only was my trip to Glen camp my first backpacking trip of 2014, but it is now my earliest backpacking trip done ever in the year!  Starting out strong, 2014!  Of course that meant it was consistently raining on the first day of the two day trip…. but considering I can not remember a single time it has rained on me while backpacking in California, I can't really complain. Actually much of the trip I could not help but reminisce on the last time I backpacked in the rain, and consequently wore the same awful, too small, pair of "waterproof" boots, on Isle Royale. I think anyone that enjoyed Point Reyes or Isle Royale (and how could you not?) would love the other too.
Backpacking Glen Camp, Point Reyes
Trailhead: Bear Valley traihead, right behind the visitors center. Very convenient to pick up the permit and go.
Distance: Day 1 we (Curtis and I) traveled just under 5 miles straight to Glen Camp, then day hiking out another 4 miles out to a coastal "overlook"  spot on the coastal trail and back.  Day 2 we completed our short backpacking loop out to arch rock and back up the bear valley trail, 7.5 miles. Overall this 2 day backpacking loop was 12.5-sh miles, not counting side adventures.
Starting out the bear valley trail is more similar to a road than a trail, even allowing bikes. The bear valley trail, and then the glen camp loop trail that you will turn onto to get to the camp are all densely forested, obviously differing greatly from the other beach trails I have hiked in Point Reyes. It is not a long walk to Glen Camp, but would make for a good beginner backpack with only one steep-er section of trail as you turn onto the glen camp loop.
We reserved our night at glen camp because we had planed this trip only a week and a half in advance. Unlike the beautiful looking wildcat camp or easy to reach coast camp, glen camp is usually the least reserved Point Reyes campground. Understandable since glen camp is is not on the coast. Most of the 14 sites at Glen are wedged close together in a small valley, within a couple paces of the latrines. Due to the weather we had the campground essentially to ourselves (minus a very persistent fox). We still chose to set up camp in our designated spot (site #2) because it was located under a nice tree for protection from the elements.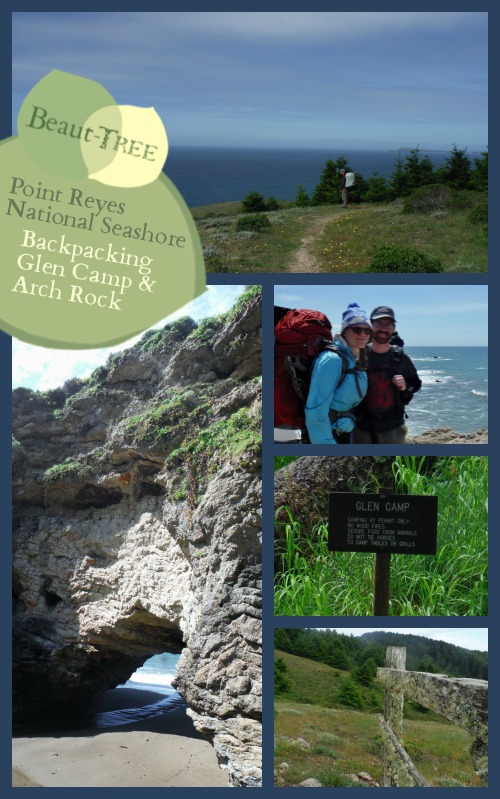 Traveling out of glen camp to the coastal trail we used some of the lesser used spur trails. Here I met a new enemy: the stinging nettle bush! It takes some artful hiking moves to get around the nettles growing into these trails. Beware, these nettles can get through pants/layers – and the stinging will begin almost immediately after contact. One handy method to help remedy the burn is to apply mud, let dry, and remove.
My favorite part of the hike was the stretch of the coastal trail we took to reach Arch Rock on day 2 – coastal views abound. The weather on day 2 was perfect weather too, allowing for clear vistas. The sunny day also meant that dozens of other day hikers were at arch rock besides us. As an aside: To see the arch of arch rock you need to travel down a steep user trail to Coast Creek. Definitely something to take the backpack off for, jumping over the creek can get a little sketchy.
Overall it was nice little trip, while Glen Camp doesn't provide for any coastal vistas, our loop did. Plus it is protected from 20 mph winds in inclement weather, so there is that! MANY more photos in the gallery below.