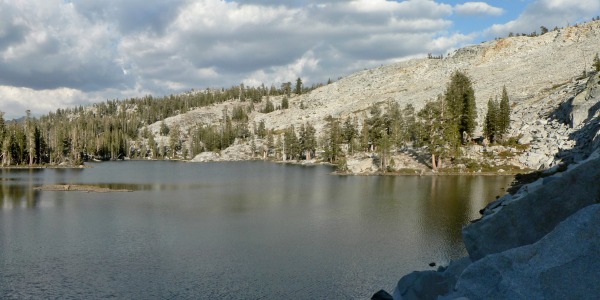 Backpacking Johnson Lake to Buena Vista Lake – Day 2 Buena Vista Loop
Have you heard about how Yosemite has to kick people out of the park starting today because of the government shutdown? Word is that with the government shutdown the roads through Yosemite to accommodate through traffic, but with a big No Recreating clause. What puts the cherry on top of the whole situation is that Google decided today to post a "Happy Birthday Yosemite" doodle. Personally I think this is great timing for the doodle, because it brings attention to the tragedy of shutting down some of America's most loved places. Because of our congress places like Yosemite & the national forests, the people who work there, and the communities whose economies are based off of these destinations are feeling undervalued – we are real people, places, and important services… Not simply a pawn in some political strategy.
/End Rant/
But, not that I am saying this is a good idea, lets just say there are other ways to get into the National Park. From what little I have seen the national forests are implementing a more Laissez-faire model to the government shutdown, allowing people to carry on as normal as long as they do not need to contact a ranger or other employee. Sneaky backdoor Yosemite entry points like the one I used in the Sierra National Forest for backpacking the Buena Vista Loop could be a rebel's option. Or better yet – just find a nice national forest to day hike, and you wont even need a permit (which you can't get) that way.
Carrying on, let me tell you about day 2 of my Buena Vista Loop backpacking trip.
Day 2 Buena Vista Loop: Johnson Lake to Buena Vista Lake
Trailhead: Quartz Mountain, Sierra National Forest (See day one for more information about this tricky trailhead)
Distance: ~13 miles, Traveling from Johnson Lake to the West and looping clockwise up to Buena Vista Lake (Total trip just below 30 miles of hiking for 3 days)
After a trying day one I woke up at sunrise on Johnson Lake feeling delightfully calm and collected – ready to hike. The stress from the previous day had me doubting if I was a solo backpacking sort person, but in the new light of morning I was ready to continue on. Plus, one more day without traveling down that forest service road again sounded like a much better idea then rushing back out to it!
The 5 miles of my journey flew past, as I passed Crescent lake and met the trail junctions closer to Wawona. After passing the lakes much of this journey was in the generic Yosemite forest – not too exciting & a given that any stream crossing is actually a dry rock crossing (warning to those who don't like to carry much water, you should probably just suck it up and carry however much you think you may drink). At one point I allowed myself to pretend that log up ahead could have been a bunny just to occupy myself.  During a different season I could imagine these section of the trail might have some amazing wildflowers, especially along the marshy "lakes," but the mosquitoes would probably also be killer. So win / loose?
Starting up the trail to Chilnualna Lakes things start to get steeper, as the day begins to get warmer. Solo backpacking through this part was starting to get a bit repetitive – given there was little scenery to distract my thoughts from the steady hill. Reaching the first Chilnualna lake on the trail it is a relief to finally see something, and the lake does open up right in front of the trail. Which is just the start – as the trail in it's final climb leads up to some amazing mountain views at the trail junction, and then over to beautiful Buena Vista Lake.
Buena Vista Lake made this backpacking trip worth the effort, it is a beautiful classic Sierra Lake (see cover photos at top of page), I only saw one other group of people on a September Saturday (just try doing that at Thousand Island lake), and the scree slop behind the lake: Pika Heaven!
I spent the evening keeping busy with a swim, pika watching, eating too much tortellini, and watching dusk draw in with a mini-box of pinot grigio. This is far more like how I had imagined solo backpacking!  Photos from Day two in the gallery below, report from my final day of travel tomorrow.