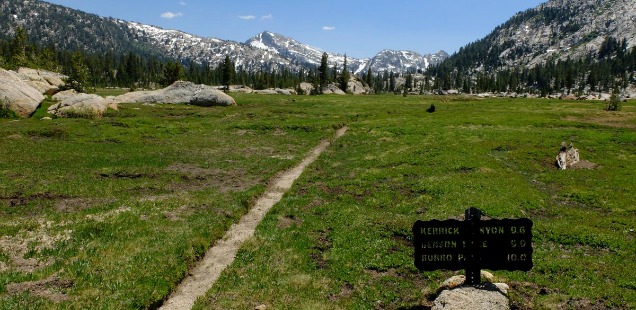 Backpacking Kerrick Meadow, Yosemite & Peeler Lake: Days 2 & 3 of Independence Day 2016 Trip
On the extended 4th of July Weekend 2016 Curtis, Will, and I backpacked into the Hoover and Yosemite Wildernesses on a three day, two night trip. It was 26.5 miles of gorgeous wilderness, early season snow, mosquitoes, and American freedom! Read about Day 1 here.
The original plan for our backpacking trip was to travel over Mule Pass into Yosemite's Matterhorn Canyon. I have a long standing dream of reaching the (Sierra's) Matterhorn, or to even simply reach the approach of it, by following in the footsteps of the Dharma Bums era Jack Kerouac. This Matterhorn route is not that same trip, but Yosemite's Matterhorn Canyon does look pretty epic on Google Earth.
At the Bridgeport Permit Station Curtis had indicated on our permit that we intended to visit the Matterhorn Canyon on our second night. At the time that we we didn't know crampons would be a necessity in early July (after a proper winter) to circumvent Mule pass.
Sitting in our Night 1 camp at Crown Lake it was fairly obvious that Mule Pass was in a snow field to the left of one of the snow caped peaks. On the morning of day 2 we proceeded to explore Mule Pass for a short while, then continued on to Rockbound pass instead. From Rockbound Pass we would complete a tiny loop through Yosemite and back into the Hoover to reach Peeler Lake for the night's camp.
Days 2 & 3 of 2016 Independence Day Sierra Backpack -Snow Lake, Rockbound Pass, Kerrick Meadow and Peeler Lake
Trail Start : We left our car at the Mono Village Resort to reach the Robinson Creek Trailhead, see day 1's directions for traveling into this beast of a trailhead. We approached Rockbound Pass from Crown Lake, which I think is the less aggressive incline up to this pass. To shorten this trip into an nice 2 day backpack it would be possible to do a trip just to Snow Lake/Rockbound Pass and back – or –  Peeler Lake and Kerrick Meadow and back
Distance: ~ 8 miles each of these days. This is an approximate distance from my GPS watch because our side adventure to Mule Pass boosted our mileage to about 9 or 10 miles on day 2.
Good news, Rockbound Pass had a limited amount a snow! We could pass! Snow Lake, near the pass's high point, was actually less snowy than Crown Lake. What was even more notable was that for a brief moment, when the wind picked up, our spot on the pass had less mosquitoes than Crown Lake too. Taking advantage of this rare and wonderful moment we enjoyed lunch at the boundary between Yosemite and Hoover Wildernesses. It was a pleasant break from the drudgery of mosquitoes… & since we had a good idea that hoards of the savages awaited us in the meadow we took our time.
Truthfully, despise the mosquitoes, Kerrick Meadow is a quality meadow – a quintessential Sierra Meadow. Kerrick Meadow is located just about the same elevation as Yosemite's much, much more famous Tuolumne Meadows, but without the crowds, we had the place to ourselves for our time there…. if you don't count the bugs!
If Kerrick Meadow is the northern sister to Tuolumne Meadows, then Peeler Lake is Cathedral Lake's northern cousin. It is a really nice lake, with deep crystal clear drop offs for fish watching and cannonball jumps. Cold water from Crown Point feeds directly into the lake, but with some searching I was able to find a shallower and warmer portion to wade into (since I am not one of those maniacs who cannonballs in early July).
Campsites at Peeler are a little difficult to find, but perseverance will pay off. We got lucky and were able to find a ledge relatively free of biting mosquitoes that night. Time to hang out on the bluffs without blood loss? Score!
Day 3 was a brisk walk out to the Robinson Lake trail junction to complete our miniature loop, then back down the way we came along Robinson Creek and Barney Lake. We reached that bizarre Mono Village Resort/RV Park by early afternoon. Happy 4th of July Hoover Wilderness, and happy adventures!
More photos from this trip below.