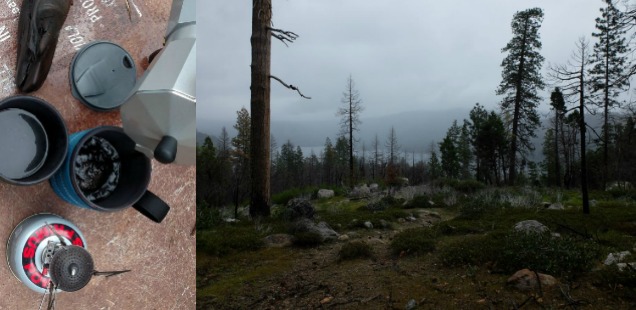 Backpacking Lake Eleanor, Yosemite: Early Season & Wet Winter Friendly Place to Rest your Moka Pot
Curtis and I took this mini-backpacking trip out to Lake Eleanor 2 months ago (May 5th). It was an early season, snow-less but rainy, little backpack from our neighboring Groveland District of the Stanislaus National Forest into the eastern edge of Yosemite. Here we found a grouping of established campsites (bear bins, fire rings) on the western side of the lake.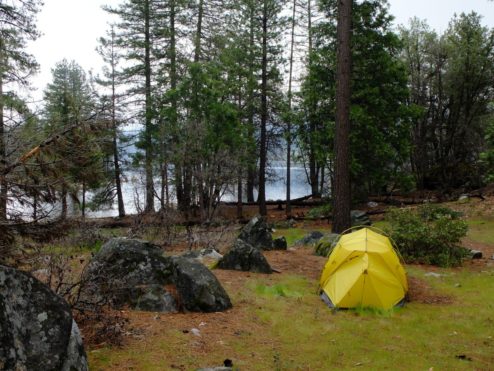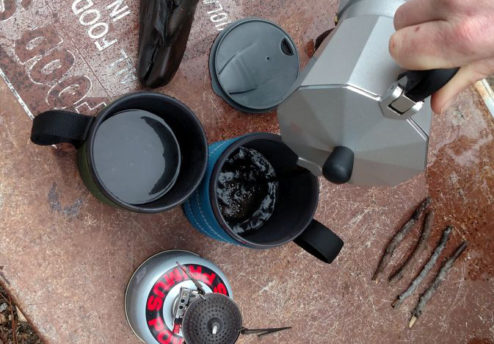 Lake Eleanor was a ghost town on the May weekend we visited. You can expect this little reservoir to not be as popular as many of Yosemite's other trail heads. No iconic granite cliffs here. And yes, reaching it requires driving long and windy forest service roads. Do expect Lake Eleanor to become more popular after kayakers can access the lake via forest road IN04, and also when fisherman are headed up to Frog Creek for the Rainbow Trout.
I found that our little hike down to Eleanor was perfect for alleviating my early season cabin fever. The short little hike meant we could take many of our comforts from home – including that moka pot – and escape down a trail without any treacherous creek crossings.
Today, in July 2017, the high country is still reeling from snow and snow melt. With these conditions in mind, backpackers are advised to use an abundance of caution: avoid the more dangerous river and creek crossings in the park and be prepared for snow covered trails. With those objectives in mind – May I suggest Lake Eleanor?
Backpacking Lake Eleanor, Yosemite from Cherry Lake, Stanislaus National Forest
Trailhead: Access is from the National Forest, not the park. From Hwy 120 travel 14 miles east of Groveland and turn Left down Cherry Lake Road just after the bridge past Rainbow pools. Follow the winding cherry lake road for 23 miles until arriving at Cherry Lake. In the warmer months you can drive across the Cherry Lake Dam and up road 1N04 to the Lake Eleanor Trailhead. We arrived before the dam opened, instead parking near the gate and walking to the trailhead. Trailhead Location
Distance: Approx. 2.5 miles walking to trailhead from dam in, only a mile from trailhead on the road to the established campsites. Downhill last mile of trail hiking to camp. 7 miles round trip from dam.
Note that because this trail starts on the forest, you will need to first get your wilderness permit from the Stanislaus Forest office (hours).
Additionally take note that right now, July 2017, vehicle access to Cherry Lake from the north (Cottonwood Road) is closed. Severe winter road damage out here will likely mean that the road will be closed all summer. Luckily the Cherry Lake Rd from the Groveland side faired the winter better, and you can still access Cherry Lake from here.
On our hike from Cherry Lake Dam into Eleanor, Curtis and I attempted following some little trails that popped up on our topo map. Directly after the bridge we turned left onto a gated access road that paralleled the lake shoreline, then hopped up onto a little trail that forked off to the right of the road as the road began to descend directly to the lake edge.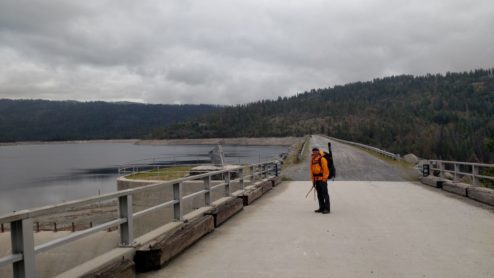 The trail was well traveled up to the Cherry-Eleanor Tunnel. Did you know there was a tunnel connecting Cherry Lake and Eleanor? More importantly – did you know Cherry Lake is also called Lake Llyod? Off topic, but anyone curious about these reservoirs and the surrounding water projects can check out this schematic (downloaded from the Lake Don Pedro relicensing public information).
After reaching the area where the tunnel is (notable because a large 'Danger' sign), the trail fades into a suggestion of a trail. Following this is probably not quicker than taking the road (which we did on our return hike), but more fun as long as you don't get turned around easily.
After reaching the road again we quickly made our way to the Lake Eleanor Trailhead. Here there is a small pullout with bear boxes where summer hikers can start from. From this trailhead it is a mile downhill to the lake.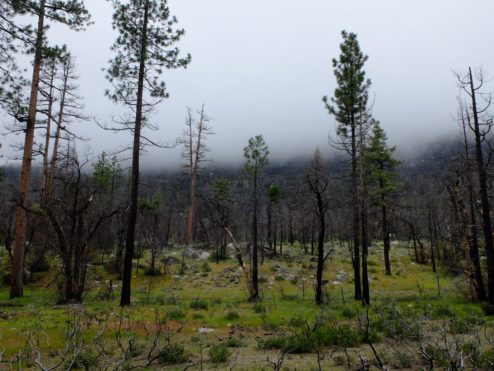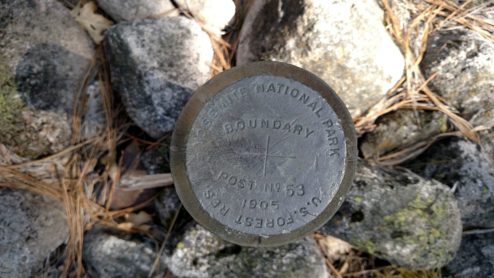 Some remnant damage from the Rim Fire is apparent on the hike into Eleanor, but lucky the many campsites we visited down by the lake were protected from the hottest part of the burn. That means there are shade trees down here – which is very necessary if you come during the hotter months of the year.
We capped off our evening with some wine and a rainstorm, watching what we dubbed the Kibbie Creek waterfall (I imagine this quickly dries up into a creek, then perhaps nothing in the summer). The next day we explored off trail to find the outlet of Kibbie Creek and a closer view of the rapids and cascades. Other day trips from here could include a walk down to the historic dam, and carrying on from there to Frog Creek and Hetch Hetchy's backcountry.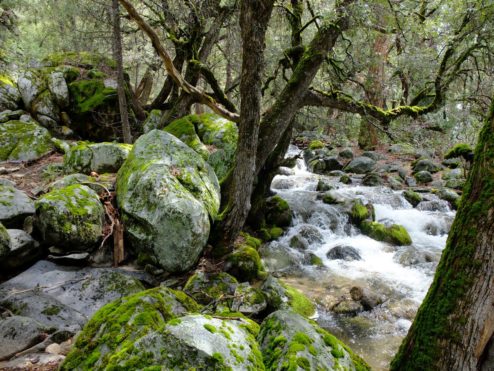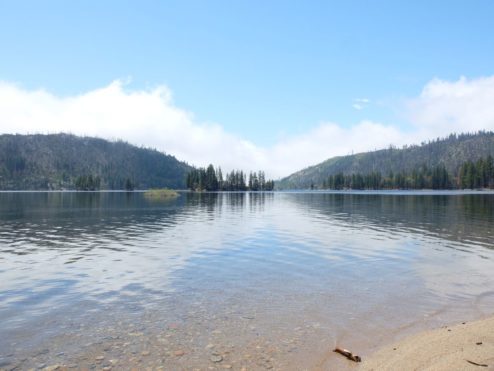 More photos from backpacking Lake Eleanor below.