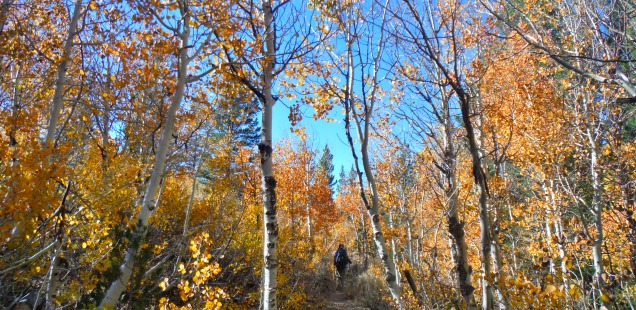 Backpacking Molybdenite Creek: eastern sierra fall colors you don't have to share
Fall colors – they happen every year but they don't get any less magical. Colors in California can't ever compare to my favorite displays in Michigan (I'm looking at you Brockway Mountain), but those yellow and orange aspen littering the hillsides are really growing on me. Actually it's a sort of poetic how the summer season is greeted sunny poppies and then adjourned with the fiery aspen, full circle.
Right now we are in the middle of fall color season… or perhaps near the end of it – go quickly! For that reason Curtis and I decided to do a mini backpacking trip last weekend into the Hoover wilderness. Any of the canyons in the Hoover are a good choice for colors, but we ended up choosing the lesser visited Molybdenite Creek Canyon just south of Sonora Pass. We choose this canyon because we only wanted to do a short mileage (we got a really late start on this one, and were carrying some heavy wine), but also didn't want to wake up to find day hikers walking past our campsite in the morning.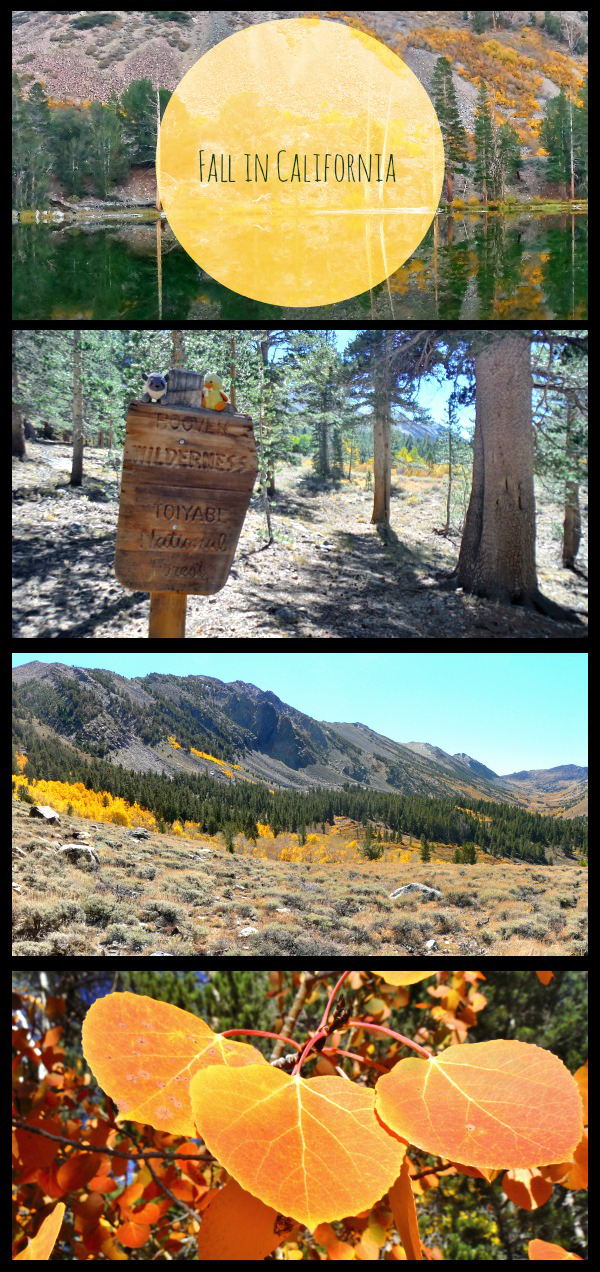 Molybdenite Creek Backpacking to McMillan Lake
Distance: A gradual 4.8 miles to the turn off for McMillan Lake, then steep .5 mile trail to McMillan Lake. 10.6 mils round trip. (Distances from the Tom Harrison Hoover Wilderness)
Trailhead: Off of 395, ~1 mile South of Sonora Pass or ~20 miles North of Bridgeport. Approaching from the South there is a "Forest service campground" sign at the dirt road. We were able to park at the trailhead parking lot inside of the Obsidian Creek Campground, but since the campground is now closed for the season you might need to park outside the gate and walk in.  Map.
After picking up our wilderness permit at the Bridgeport Forest Service office (they have a box with them outside during the off season), we headed up to the Obsidian Creek Campground to start up our hike. The trail starts behind the Obsidian Creek Campground then progresses through dense aspens stands until you reach a critical turn where the canyon opens up before you. It is a gradual climb up the canyon, making for a relaxing trip.
We choose to camp up at McMillan Lake, which was a quaint little lake. There are no fish, not much in the way of flat/non-rocky spots to pitch a tent, and the trail up to the lake is the most strenous part of the whole trip. On the plus side McMillan lake had less cow poop to navigate around (I imagine this Molybdenite may be a nightmare of a cow filled grazing canyon in midsummer – something to ask the Forest Service when you get your permit).AND there were pikas who lived in the scree on the opposite side of the lake, which makes for a winner of a camping spot if you ask me.  To get to the lake turn left off the main trail at a post with an arrow on it a few hundred feet before the Hoover Wilderness sign
Molybdenite is a short canyon, with less dramatic mountains then some of the neighboring ones – but what it lacks in drama it makes up for in peacefulness. We had McMillan to ourselves, and since it was only a short hike back could spend time fishing (Curtis caught some little ones in Molybdenite Creek) and reading (Me reading the sad The Fault in Our Stars book) before heading back. To finish up the trip stop at the Jolly Kone in Bridgeport for custard like soft serve, or the Burger Barn for a surprisingly large selection of vegetarian options & fried things.
If you want to combine Molybdenite Creek Backpacking into a longer loop trip, I suggest you go check out Trail's blog on Burt Canyon. More photos from this fall backpacking trip in the gallery below.