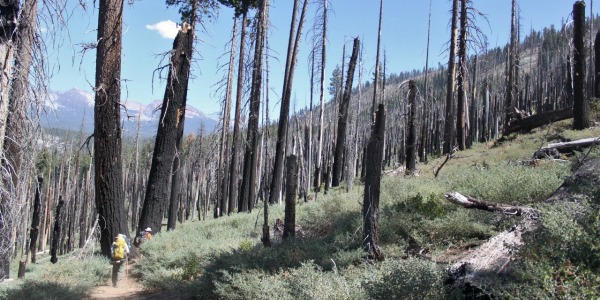 Backpacking Mono Meadows to Clark Fork of Illilouette Creek – Day 1 to Ottoway Lake
On August 24th through the 28th 2013 six Michigan Technological University alumni (Curtis, myself, Jacquie, Dan, Kate, and Kris) were to backpack Yosemite National Park, from the Hwy 120 down to the valley. It was to be the quintessential backpacking trip, half dome hike included… but since the Rim Fire happened to be blowing up that very weekend, in the words Kenny Rogers (and latter covered by punk band Elmer):
You got to know when to hold 'em, know when to fold 'em,
Know when to walk away and know when to run (FROM FIRE).

As it happened, the six of us sat around in the newest Mariposa County microbrewery, Prospectors Brewing Co, and decided on a trip out of the southern Sierra up to Ottoway Lake and back. Curtis and I had been to Ottoway Lake during our Red Peak Pass backpacking trip and knew it was beautiful, and since we needed a day of backpacking permit for 6 people I thought the Mono Meadows trailhead would be a realistic possibility. Thus it was decided, we would drive into the Valley the next morning to obtain a completely new permit then start off from Glacier Point road.
Day 1 Backpacking: from Mono Meadows to the Clark Fork of Illilouette Creek (8/24/13)
Trailhead: The Mono Meadows trailhead is approximately 10 miles up Glacier Point Rd on the right, and has a dirt parking lot with bear bins available. No Restrooms. Map
Distance: ~6 miles to our campsite. We started around mid-day, and managed to make it to camp before too late. This portion of the trail is more downhill than uphill.
We started off our day with an early morning run to the valley wilderness center to obtain our permits out of the Mono Meadows trailhead, which were no problem to obtain. Because we did not need to catch the bus (as planned for the original trip) we had time to stop by some valley sights – El Cap & Tunnel View – before heading up Glacier Point Rd, where we took another detour to Glacier Point itself.  Well worth the late start, especially considering how we failed to manage to get many group picture while backpacking!
From the trailhead it is only short mile downhill to mono meadows, which is predictably grassy in late August. Shortly after passing the meadows we hiked through a large burned section, an area I believe was burned after a lighting strike back in 2004. The trail here is pretty hot and sandy, leading to a large downhill – providing a some nice views around the trees. Enjoy it now because the hike uphill on the way back can get a troublesome/less enjoyable.
Approaching the first Illilouette Creek crossing there was one very nice large campsite, perhaps a nice spot for a group looking to spend the night before heading back up the hill we just had hiked down? We took our first lunch-ish break here in the canopy on some large rocks.  The wilderness ranger I spoke to before we set off on the trail said that Illilouette creek does not dry up – making is a nice place to backpack along later in the season when many of the smaller streams in the park do dry up.
Our campsite for the evening was just prior the second creek crossing, at the Clark Fork of the Illilouette. The early stop allowed enough time for a fantastic gourmet dining experience: pesto with squash ravioli, accompanied by freshly made camp stove bread, plus pinot grigio. I really need to ask Dan for his camp bread recipe someday, although I doubt I would ever have the patience to make it in the backcountry!
After the process of planing, evacuating, and re-planing, it was truly wonderful to finally be out in backcountry and surrounded by some of my favorite people. We had made it!
Pictures from day one in the gallery bellow… the blog for day two's trip up tomorrow!