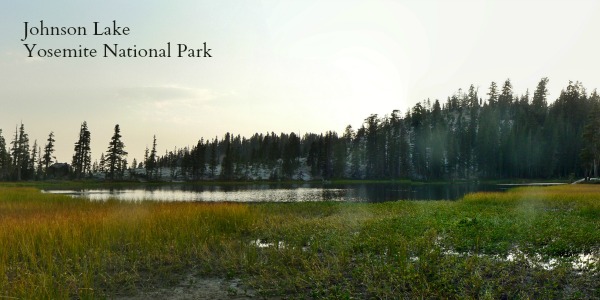 Backpacking Quartz Mountain Trailhead to Johnson Lake – Day 1 Buena Vista Loop
Between the Rim fire and other commitments I have not been able to spend too much time hiking with my favorite hiking partner, and boyfriend, Curtis. This past month Curtis has been been working on creating a models and maps for the burned areas of the Stanislaus, with a side gig of representing soil scientists everywhere in the A.P., San Jose Mercury and L.A. Times. Which is cool and all, but has left me… alone (insert worlds smallest violin here). But, when in Rome – explore and conquer new landscapes as the Romans did? Consequently I have completed first solo backpacking adventure, a loop in Southern Yosemite I am calling the "Buena Vista Loop".
But Why Solo Backpack?
Being alone provided the opportunity for the solo trip, which I had been contemplating for while. I had recently heard stories from two of my friends's, Jen and Kris, solo trips. Thinking about it, I wanted to prove that I could take care of myself out there. Plus I wanted to be able to decide on any trail and destination that struck my fancy, not because it was the most convenient or breathtaking. Truthfully I wanted to hike Chiquito Pass in the Southern Yosemite because I wanted a photo holding a Chiquita banana near the sign the Chiquito pass sign – as this is what I imagined every time I hiked past signs pointing me to Chiquito pass when hiking to Ottoway Lake recently.  (Plus, the air quality down there was still better then the areas close to the fire, but details.)
Since I had done many day hiking trips alone in the Sierra, I had imagined it would be just like that but longer. Which is partially correct. I could hike as fast as I wanted (or as slow as I wanted), decide when to stop and take too many pictures, and travel a trail simply because I was curious.  Unlike day hiking the backpacking trip did leave me much more time with my thoughts, to feel lonely, or tired, or (at worst) to mentally berate my planning skills.
All the same, the Sierra is as amazing alone as it is with someone to share it with. On my trip I only saw two groups of people in passing, leaving me to feel like that I alone shared these mountains and lakes with nature. Often in the morning I make it a point on any backpacking trip to drink my cup of coffee quietly meditating on a beautiful view, and here I could quietly be present anytime.
But, more stories about lessons learned in a latter blog post, lets move onto the details from this trip!
Day 1 Buena Vista Loop: Sierra National Forest Quartz Mountain Trailhead to Johnson Lake, Yosemite
Trailhead: Quartz Mountain Trailhead is located down a treacherously bumpy road in the Sierra National Forest. To get there from Bass Lake Rd (off of Hwy 41) turn onto the windy, but nicely paved, Beasore Rd then continue until you reach Cold Spring Summit (a well marked intersection). From here turn onto the dirt road 6S10S, and continue until you reach an signed intersection that points towards either Forest Road 10 (also called Sky Ranch Rd) on the left or the Quartz Mnt Trailhead on the right. I tried both ways and I think the road to the right is the better choice because it has less use (is less bumpy), plus is shorter. Either way, follow until you meet with Forest Road 10 and continue until you reach a unmarked but well used spur to the left, and follow the spur to access to the parking lot. If you reach the end of the road on accident (I did) then there is a nice spot to turn around and try again. I did this jorney in a Ford Focus, but I can not say I recommend it. For more information, and other options for getting to this trailhead I would suggest this webpage.
Distance: ~7 miles from Quartz Mnt trailhead to Johnson lake
Step one of every trip is obtaining a permit, which in this case came from the Bass Lake Ranger District on the Sierra Forest. This was the first mini-adventure, because Google's directions ended before I had reached my destination. Luckily I was able to guess my way to the office.  For anyone planning on going, travel into the town of North Fork, and look for the big forest service sign on the West side of the road. Here I discussed my concerns with traveling down the forest service roads to Quartz mountain, contemplating the alternative of hiking out of Chiquito Pass Trailhead (adding an additional 6 miles of hiking to the trip, but reducing my travel time on forest service roads). Looking at the Ford Focus I was driving the permitting staff person was very assuring – "Oh yeah, you can make it in that!" – So,  I got the permit.
I realized driving to the Beasore Rd that I had not looked at directions for the Quartz Mnt trailhead, only the Chiquito Pass trailhead. No worries, it appears on my map that forest rd 10 connects to Beasore, and I can take that in. Guess What? Beasore Rd doesn't not connect to forest road 10. I ended up driving almost all the way down to the Chiquito Pass trailhead before I decided to turn around. Frustrated but determined, I followed my gut and took in the road across from the Cold Springs intersection, following a bunch of motorbikes and feeling REALLY out of place in the Focus. Rolling down this dirt road I did come a sign that directed me either to Quartz Mountain trailhead, or to Forest Service Road 10… which was a conflict of interest, since I wanted both of these things. I choose 10 because it looked more like a real road on the slice of map I had. This was a poor choice that made the drive longer and more painful than it had to be, and truthfully Rd 10 is equally (if not more?) of a high clearance road then the one leading more directly to the trailhead. Eventually, going 15 mph for 17+ miles, I was at the trailhead. It was just after 3 pm.
Knowing I still had 7 miles to hike to get to a camping spot, I took off from the trail head as quickly as possible. Only allowing myself one or two essential 'Got to catch my breath' hikes on the way in, I did not stop for any photos. This meant I did not get my Chiquito Pass with a Chiquita Banana photo on the way in, which played into one the main goals of the remainder of the trip: preserving one of two bananas from getting mashed.
The fight against sunset was not a fun one, but at least this stretch of trail is not a missed opportunity in leisurely sightseeing. In September the South fork of the Merced is not running (as are none of the other streams along this trail), and the one marshy lake gave me the creeps. Just before Buck Meadows the trail does open out into a semi-nice view, but then quickly descends back into the forest. The worst portion is the hill between Buck Meadows and Trail junction to Johnson Lake, which is just steep enough and dusty enough to make you want to quit.
I was super relieved to finally arrive at Johnson Lake. My 6:30 arrival time left enough time to figure out how to get water without sinking into the marsh, find a nice campsite, contemplate a bear footprint, mourn the smashing of one of my photo-opt bananas, dine, and go to bed.  Johnson Lake does not look the biggest on the three lakes along this trail, but is proably the most like a "Real Lake" (as opposed to a wetland). The calm lake with surrounding marsh that attracts a selection of adorable songbirds flocks, and a few obnoxious ducks who may have some sort of nighttime mating ritual(?). It was a warmer night here, at a lower elevation and protected from the wind.
To be honest I was still feeling stressed out from my drive and power hike, falling asleep that night doubting my plans for next couple of days. I resolved in my head to blame the horrific drive on Friday the 13th (which it was), and decide in the morning if I wanted to carry on or turn around.
Day two of my Backpacking trip around Buena Vista Loop in Yosemite  will be up tomorrow, More photos in the Gallery below.