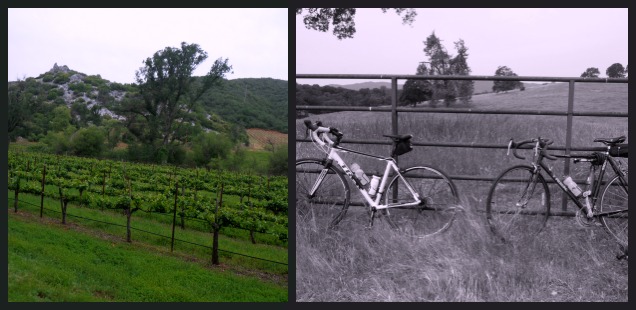 Barbera and Biking Shoes: A Road Bike(?) Tour Murphys, California
Last month Trails and I hit the roads surrounding the little Sierra Foothills winery town of Murphys, California to burn some rubber (road bike tires, of course) before we burned through some wine tastings. Or rather, to burn through some brakes while navigating a terrifying stretch of dirt road on tiny road bike wheels before rightfully rewarding ourselves for surviving.
Murphys Road Bike Loop – San Domingo & Murphys Grade
Trailhead: Murphy's public parking near the Black Bart Theater in Murphys. Map
Distance: 20 miles, hilly, the steepest feeling uphill on Dogtown Road
This is my second road bike trip in the Murphys, this trip one longer distance than the first one because at the time Trails was at training for the 70-mile Tour De Tahoe and I was training for the biking leg of the Groveland Triathlon. The route was an interesting tour of vineyards surrounding Murphys, a couple terrifying steep and potholed hills, a stretch of dirt road doom, and a lovely gentle climb back to Murphys on Murphys Grade.
Since Trails has already blogged about the trip I am going to be super lazy here and say you should refer to her blog post – Murphys: Bike, Wine, Bike Some More – if you want all the gritty details of the route, sights, and what to check out in Murphys.  But I do have this map from my new GPS watch:
(ignore the blip on Sheep Ranch Road were I forgot to turn on my watch during the crazy steep downhill… follow the road obviously)
Would I recommend the route for road biking? Probably not. Although it was an adventure, the dirt road stretch of San Domingo is long and I count us lucky for not popping a tire tube. Perhaps better for the hybrid bike crowd. Murphys Grade Road though, I would road bike that sucker for days. Maybe a 3rd road bike trip of Murphys is in store if only to finally pick a winner of a route?