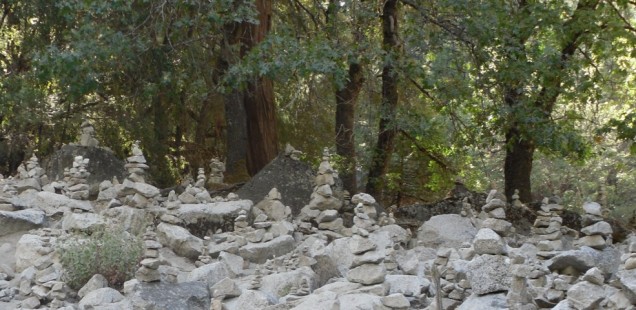 Bike Paths, Cold Rivers, and Trail Markers
Curtis and I had planned to bike around wine country this weekend, but, as we should have expected, it was your traditional end of September scorcher of a day. Instead we decided to take the opportunity to swim in Yosemite, and bike around the valley there.
We had been avoiding the valley all summer because of the hoards of people everywhere. I enjoy people watching to a degree, but we always rationalized that we could go latter, when we don't have to fight a man for a parking space.  Parking was quite easy too, and we merrily went biking along the rest of the day visiting the LeConte Memorial Lodge , biking up to the Mirror Lake road, taking  the path down and into the Merced River (swimming without our bikes, of course!), over to the dried Yosemite falls (to dry off), and back to the meadow with the Sable.
I knew that people did bike around the valley, but I didn't realize that there is a really nice set of paved trails down there. The entire road to mirror lake is open for the walkers and bikers to take over! Now if only they could have one big parking lot at the front of the valley and open all the roads for walking/biking with the occasional car for the handicapped! :)