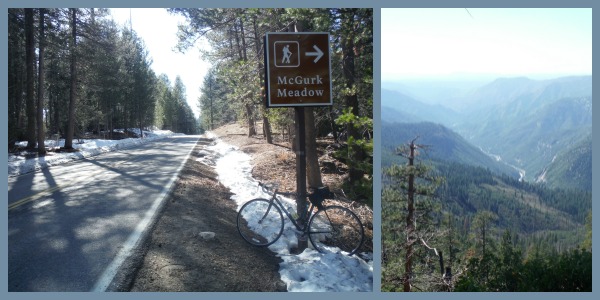 Biking Glacier Point Road – it is one big hill.
This last weekend the Yosemite Facebook page posted a little note stating that the Glacier Point Rd was going to open for cars today (April 14 2014) and with bicycle traffic permitted the weekend before.  A few years back I had biked Tioga Pass Rd in the spring prior cars being allowed on it, so I jumped at this idea. These springtime "Bicycle Only" times are a rare opportunity to visit these roads without fear of starry eyes tourists, RVs, and tour buses. Plus, any stretch of road I have biked seems much faster next time I need to drive it in the car!
Visiting on Saturday Curtis and I arrived fairly late in the afternoon. Given the time and our general biking level (my only constant bike riding trip is a 5 mile loop), we decided not attempt the complete 30-something mile bike ride to Glacier Point. We chose instead to bike to McGurk meadow, a shorter 16 miles (8 miles to the meadow).
Biking Glacier Point Road in the Spring
Parking: There is plentiful parallel parking in front of the restrooms at Chinquapin, where Glacier Point road meets Wawona Rd (Hwy 41). Map
Distance: 5 miles to Badger Pass (10 mi round trip), 8 to McGurk Meadows (16 round trip). Should you want to continue on the internet states it 13-ish to the Taft Point and Sentinel Dome (26 round trip), and 16-ish to Glacier Point (32 round trip)
The first 5 miles of the ride is a single long hill, with one good spot overlooking the Merced River canyon to stop and take a breather. After you reach Badger Pass (5 miles) the road then takes you downhill, past summit meadow  to McGurk Meadow. I am assuming sometime after this (maybe at Bridal Veil Creek campground) the road starts another incline to Glacier Point.
I chose to end our trip at McGurk instead of Bridal Veil because I was hoping that I could make the long half mile hike out to the meadow. This short hike has neve topped my priority list when traveling Glacier Point Rd, but the name "McGurk" always reminds me of the coach character on a favorite TV show, Home Movies. Sadly, it is still too snowy at the trailhead even on this super dry year. Someday, I will visit McGurk, just not on the day I wore my biking shoes.
It was a fun little bike ride, next time I definitely want to start earlier and go further! Hopefully next year Yosemite will continue to inform cyclists about availability of this bike via it's facebook page. Otherwise, from my experience I would say if you want to cycle these winter closed roads, the weekend prior reopening for all traffic is fair game. Maybe I will try biking Tioga Rd again in the next couple weeks?