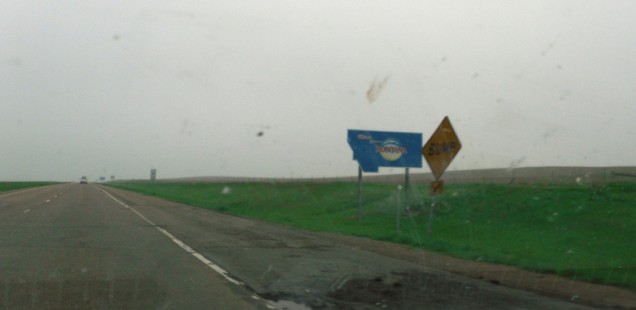 Bismark, ND to Butte, MT: Day 2 of road trip to CA
Basil was so upset to get back on the road again today, although he was probably most upset because we made him sleep in the motel 6 bathroom, and nobody would like that. We continued onward anyhow into the rainy gray day that continued though all of North Dakota and Montana.
It wasn't a good day for photos, although the herd of vacationers at the Theodore Roosevelt national park rest stop disagreed and continued to take thousands of the same picture of gray badlands. Watching the scene unfold, Basil and I sat in the car waiting for Curtis and reading the Bismark Tribune, under our new plan of having me drive full speed ahead and giving Basil a break from motion while the Uhaul slow caught up. Did you know that the new sex in the city movie is set in Dubai?
After reaching Montana we stopped in Glendive, a small tourist town that uses the Dinosaur angle to attract visitors to meet up with a family friend of Curtis's. We met these nice people in, of course, the parking lot of a Christian owned dinosaur and fossil museum. After visiting for approximately ten minutes in the parking lot with the cutest pug ever, we continued onward were I saw the fabulous outside gate to Pompey's Pillar, a sandstone rock where Lewis and Clark signed their names (it had closed 30 minuets prior my arrival), and climbed over mountain passes in the the rain.
Actually the drive over the continental divide was pretty stellar, dark and misty like, but pictures would not have properly portrayed this.
After reaching Butte, MT, Basil made himself at home and I met one of Curtis's friends named Josh. He latter admitted to me that Curtis paid him to pretend to be his friend, so I would believe the elaborate back-story of Curtis's life before he came to Michigan. Just as I expected ;)