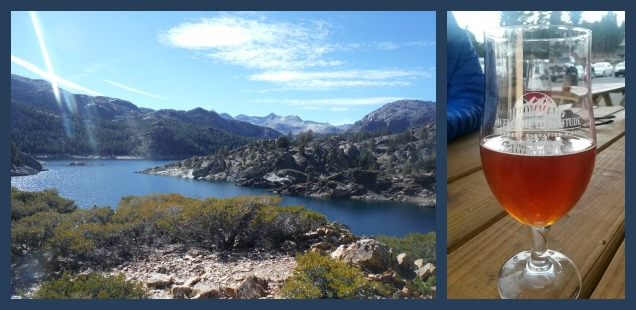 Brews & Hiking Boots: Gem Lake, Ansel Adams Wilderness & the (NEW!) Mammoth Brewery Tasting Room
Here is the thing about Mammoth Brewery – it is right next to SO MUCH GOOD HIKING. In years past I have hit up the old mammoth tasting room after hiking up towards Duck Pass and after backpacking to Lake Ediza. Even on this trip, where the Gem Lake trailhead is 25 miles from the brewery, it that isn't that far (especially since we were headed that direction to camp). What I am trying to say is that this "Brews and Hiking Boots" post could be about any number of hikes, but I can personally attest to fact that a hike to Gem Lake pairs well with a Mammoth Lakes Saison.
Day Hiking to Gem Lake, Inyo National Forest & Ansel Adams Wilderness
Trailhead: To get to Gem Lake we started at the Rush Creek Trailhead. The trailhead is off June Lake Loop (Hwy 158), across from the Silver Lake Resort Campground.  Map.
Distance: 7.25 miles round trip to Gem Lake. The way out is all uphill up quite a few switchbacks
I had seen Gem Lake from a distance before – on the way out from backpacking Thousand Island Lake – and from that trip I had the impression that though it was a pretty looking lake it might not be worth the effort to hike up ALL those switchbacks. As it turns out I was just remembering ALL the switchbacks from the agonizing downhill of Agnew Pass to  Agnew Lake. In comparison the hike from Rush Creek Trailhead to Gem Lake  is not really that bad. I mean, not the laziest stroll ever, but there are lots of great spots to stop and enjoy the views of Silver Lake while catching your breath.
Hiking to Gem was part of Trail's Birthday weekend hiking festivities – meaning like at our trip to Parker Lake there was a good deal of fishing & relaxing. Honestly I had a big breakfast of syrupy pancakes and didn't really feel like hiking more to explore the lake. Health!
If you are looking for maps and more info on the Gem Lake hike head over to Trails' Guide.
Mammoth Lakes Brewery, CA
The old mammoth lakes tasting room was a small garage type area – I believe connected directly to the brewing operations. Which was fine, actually it seems like many California Brewery tasting rooms tend to be more industrial, but it did get stupidly crowded at times in the small area.  The new tasting room takes over a big building closer to the main drag in Mammoth, with a patch of picnic tables outside (dog allowed outside). Map.
Talking about the beers, Mammoth always seems to have a large selection of beers. And much to a dehydrated hiker's chagrin many of them have a high ABV. But a you can't argue with a good beer after a long hike, so I am sure I will be back again… I just might have to wait until next year, there is snow in the forcast for this weekend. Soon all that beer will be one closed pass away from Groveland!