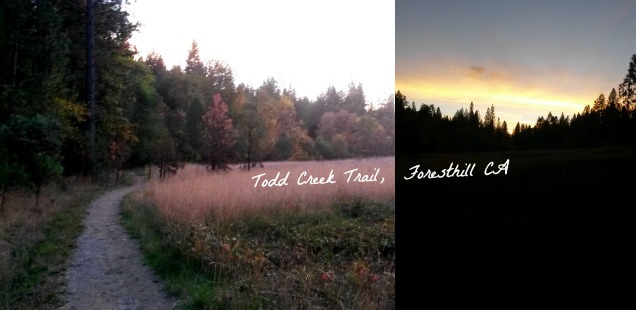 Brews & Hiking Boots: Western States Trail & Auburn Ale House
This weekend Curtis and I helped a friend transport his car up to Foresthill – both out of the kindness of our hearts and out of the hope that we would be able to make a return visit to the Auburn Ale House. Not only did we manage to hit up the ale house, but hike a small spur of the Western States trail near his house. And yes, I am available to move cars to areas with breweries/trails on any given weekend.
Todd Valley Creek Trail, Foresthill CA
Trailhead: We accessed this trail from near Todd Valley Road by Foresthill, CA. Generally the trail seems to follow the Todd Creek, so whatever is the easiest way for you to access it would probably worth trying. Map
Distance: About a mile from Todd Valley Road there is a nice little meadow to spot deer and a sunset. Otherwise you can explore and maybe hike forever. In this area it was a pleasant flat walk.
After arriving in Foresthill I was searching geocaching.com to see if there were any caches in my immediate area (as one does) and was excited to see that a Western States Trail geocache was nearby. In my mind that meant the cache was on the Western States Trail but on further research I think we were on the Todd Valley Trail, which connects into the Western States Trail? Truthfully there is not much information on this area available online.
The Western States Trail is trail that vaguely follows the historic path of native americans and early pioneers across from Salt Lake City to Sacramento. The current trail may or may not follow this exact historic route – trails like rivers seem to naturally drift over time. The most popular section of the Western States Trail today is the stretch from Tahoe (Squaw Valley or Robie Park) down to Auburn, which is used in both the Tervis Cup and Western States 100.
As it turns out I apparently explored the densely forested Todd Valley Trail that connects into the Western States trail. This little path behind a small residential area is a nice quick access point share by walkers, mountain bikers, and dogs. I don't think I would go out of my way to see it, but if you are nearby or exploring different trial runs in the area it would be a nice alternative to explore.
Auburn Ale House, Auburn CA
When I lived up in Grass Valley for a year I only went to the Auburn Ale House once. Looking Back on it that was a terrible waste of a nearby brewery. But considering Grass Valley and Nevada City have a pretty awesome restaurant/bar scene it wasn't really like I needed to drive outside of town. Foresthill on the other hand is a lot smaller… and the Ale House is definitely worth the trip.
The restaurant/brewery seems to be the biggest deal in the whole of Auburn's Old Town area. On a Saturday in November we had to wait 45 minutes – spent at the significantly less crowded California Club (the definition of a locals bar) – before being seated. The Gold Digger IPA is probably my favorite here, and paired with a mushroom sandwich it is worth the wait.
Just tapped the cask of Red Headed. Hop Donkey, our new imperial red ale! Mmmmmmm pic.twitter.com/g5Z9PBsE3n

— Auburn Alehouse (@Auburn_Alehouse) September 12, 2013