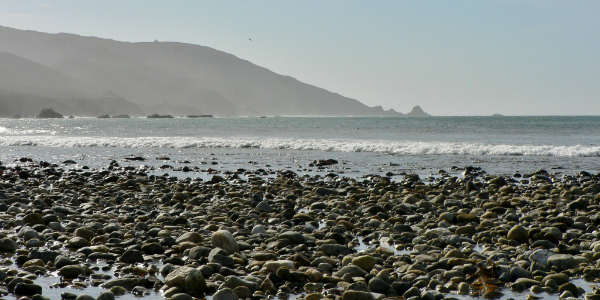 Camping Andrew Molera State Park in Big Sur
I'm not going to lie, whenever I am car camping anywhere new I worry about not finding space to camp. A pretty justified fear thanks to past experiences,  like the time we reserved a campsite at Butano State Park and someone still tried to take our spot. I mean the people who we ended up sharing the spot with had assumed they could find a spot, and then they couldn't – I don't want that to be me! But this is a risk one must take for camping in the non-reservable Andrew Molera State Park.
Camping Andrew Molera State Park
We ended up rolling into the parking lot around 11 am on this beautiful mid-march Saturday, and to my relief there were many spots still left in the campground. When we once again pulled back in at sundown, after our epic Tanbark hike, the sign outside claimed "Campground full," but it looked like there were still a few spots left. Perhaps the entrance rangers just flip the sign when they leave as long as the campground is almost full?
This campground is a whole one fourth of a mile backpack into park – making it both Curtis & I's most deluxe (with pillow & beverages) and shortest backpacking expedition ever! I really enjoyed staying at Andrew Molera State park: mellow fellow campers, we could see the stars from our campsite, and it was less pricy ($25) than Pfeiffer Big Sur State Park. Plus, on the short trail between the parking lot and the campground we were greeted by a couple small little brush dwelling bunnies – adorable!  We will most likely return here if we camp in Big Sur again.
Hiking Andrew Molera State Park
After waking up brewing some coffee Curtis and I went for a short hike to the beach. It is only a half mile from the campground to the ocean, which you can hear from the campground if the wind into too strong. The trail, which is actually a service road, takes you through a eucalyptus monarch butterfly paradise, along the Big Sur River, and ends at where the mouth of the Big Sur river meets cliffs & the ocean. From there we had to ford the river to get to the beach, which was chilly but never more than knee deep.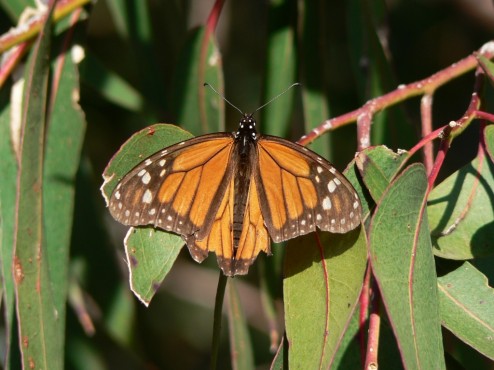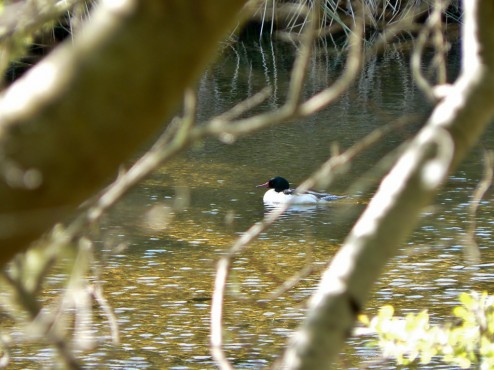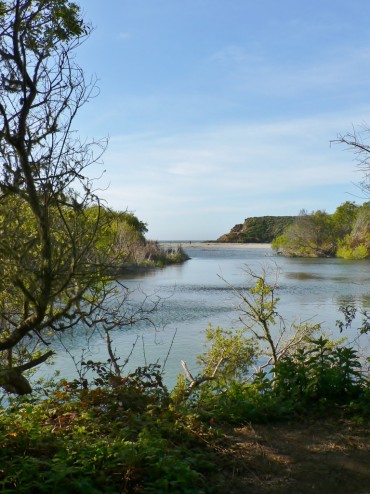 If know Curtis & I you probably know of our traveling companions Moby Duck & Sheep, but for coastal adventures recently we have been bring along one stuffed seal, appropriately named Seal. Seal loves the ocean, and we all were happy to make it to the beach, to finally touch the water.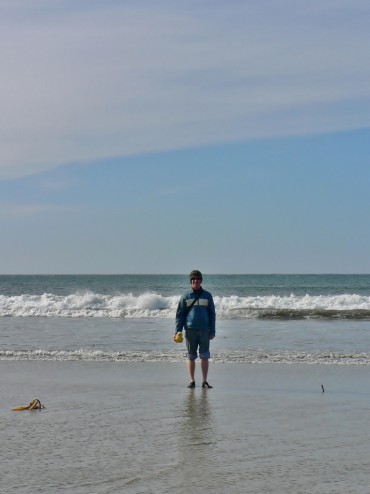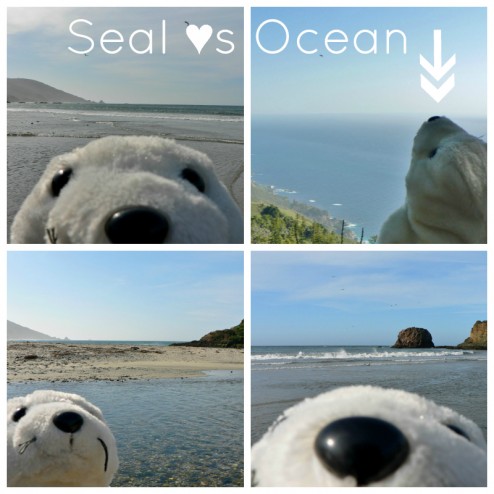 It was a nice "Check you latter, ocean"  hike to end our trip to Big Sur with. Short and sweet, like our trip, but creating some wonderful long lasting memories.
As always, more images are in the gallery below. I tried uploading a larger size this time so that the Coolpix viewer will not show up as pixel-y as it did previously.