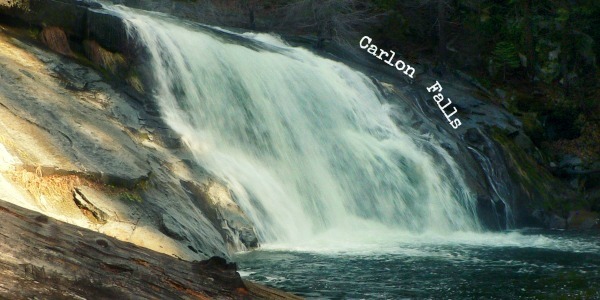 Carlon Falls for a December Hike
It is winter! Unless if you listen to the "official" start of winter business  then it is still fall – but I am in firm belief that once Thanksgiving is over fall is no more fun, and you might as well call it for what it is. Am I right? Winter!
Winter here in the Sierra means wet weather, and the start of waterfall season. This past summer many of the Yosemite waterfalls seemed to dry up extra early & the year round falls seemed a bit wimpy. But news is that the falls are now rushing again, so Curtis and I figured we should go waterfall hunting on this sunny Sunday afternoon.
Carlon Falls Dayhike
Carlon Falls Trailhead: Evergreen Rd, Stanislaus National Forest – after bridge on South fork of Tuolumne River/ Opposite side as Carlon picnic area sign!
Distance: ~ 3.5 miles out and back. Trail is fairly level at first and then goes over a couple large hills right before reaching the falls.
This time of year the Valley and Hetch Hetchy seem like the two best options for Yosemite Waterfall viewing,  with the Tioga Pass closed, but I was excited to try out a new trail we had never been on and hike to the lesser visited Carlon Falls. The trail for this waterfall actually starts on Stanislaus Forest Service land before you enter the park, Parking is on the Evergreen Rd (the same one that takes you to Hetch Hetchy, right after a solid little curved concrete bridge.  From there it is about a mile and a half hike up the trail that skirts the South Fork of Tuolumne River.
I know that this a popular swimming hole spot in the summer, but the wintertime hike instead offers a good deal of peaceful views of the cold river. There are a few neat Archaeological type sight along the trail as well – the foundation for an old  building and a old tree that has grow over it's utility pole attachments… I wonder what this area used to be used for? After a mostly flat (only one big hill here!) hike we arrived at Carlon falls, which was much bigger then I imagined, with several  tiers of waterfalls. And it will only get much bigger with more snow – so perhaps he will be back? Hopefully at least by next summer to test out the swimming!