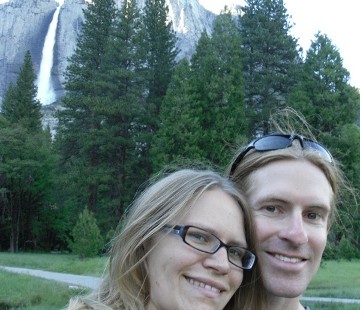 Valley Floor Day Hike instead of unpacking!
Here are all the pictures from Curtis and I's first trip to Yosemite. The day prior we were at the Sierra Earth Fest(or something like that…)  at the coffee shop/outdoor theater/garden/farmers market/tourism council/other in Groveland, where people were talking about good old fashioned California save the earth stuff. Some yoga guy there told us the waterfalls were FANTASTIC. Turns out that weekend was also the yearly"Get into Yosemite for Free Day." So despite all the crowds were took to the valley of the park.
Check out Yosemite for free? Well we dont need to unpack all our boxes yet!
Valley Floor Trailhead: Parked by Bridal Veil Falls (parallel because parking area was full) in the Valley.
Distance: ~4 miles ( we walked there on the trail and back partially along the road/bike paths) Flat with but unexpected hills compared to the road.
Turns out the waterfalls were pretty fantastic, some combo of a late snow fall and a long spring with the sudden snow melt caused the water to be rushing past pretty epically. All the photos below are from Curtis's photo account and he hasn't put captions on them yet, so:
*boring description part*
The first fall is Bridal Veil, which was exactly like Splash Mountain. We were drenched in 2 seconds, and since this was a super hot day, it was a PARKING disaster!
Not wanting to go back to the car we hiked to the Chapel Beach, looked through lenses to see crazy people climbing up El Cap.Curtis and I determined if you gave us a year and one million dollar were might do it… maybe 2 years…
After finally walking back to the car we parked near the actual chapel and through the meadow (the Merced River is really high this time of year!) to Yosemite falls. The shadows were at the base of the lower falls and a strong wind was being produced from the massive water flow. Standing by them was like being in a dark and misty wind tunnel, OF DOOM… Jk ;)
Anyhow, the pic above is of Curtis and I in front of Yosemite Falls . This was his first time to the park, you know !