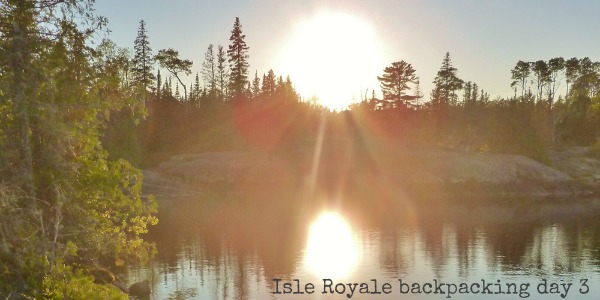 Chippewa Harbor to Moskey Basin: Isle Royale backpacking day 3
Over the extended Memorial Day holiday 2012 Curtis and I met up with our favorite backpacking Midwestern friends – Jacquie, Dan, Kris, and Kate – to spend 5 days backpacking Isle Royale National Park. It was amazing to get to one of the US's least visited national parks so near to our alma mater Michigan Technological University and once again feel the chilly breeze, see snow hardy forests, and smell fresh waters of lake superior.
Navigate to the Backpacking Isle Royale Page to read about other days of our trip, or continue on to read about hiking on day 3…
What was the first order of business on day 3 of backpacking Isle Royale? Pancakes! Fire roasted with coconut oil pancakes, to be exact.  YOLO backpacking style!  Anyhow, they were delicious and were accompanied by a time saving hiking decision – It was decided that instead of carrying out our original loop "Plan" (I put this is quotes because the plan was only loosely decided, with the intention of changing depending on how we felt) we would skip going to the Chickenbone campsite and instead return to Moskey Basin. This would shorten our trek a bit, and the graffiti on the shelter at Chippewa Harbor informed us there were leeches at Chickenbone.
Which brings us to a random Isle Royale tip – the inside shelters/outhouses/picnic tables is a wealth of reading information. Sharpie, carved, or otherwise the leave not trace ethics are left behind in these manmade structures. So, if you really want to immerse yourself in the Isle Royale experience leave your book at home and instead pick up on the inner musing of hikers and boy scouts alike? Or ignore it, and enjoy the nature? Either way, I wasn't willing to take that bet on leeches (on another backpacking trip in the the U.P.'s Porkies I had enough leeches to last me a lifetime).
Additionally, before we left the Chippewa Harbor campsite some really nice Isle Royale "Old timers" showed us a tiny little one room schoolhouse a bit past the group tent sites. It was a pretty neat little piece of history, to imagine the two or 3 kids on the island holed up in there in the winter. After this exploration we finally left, making our way back on the same trail we had hiked the day before, with a couple additional pit stops to Lake Mason and Lake Richie.
Arriving at Moskey Basin for the evening we, for the first time on our trip, were unable to get a shelter for the evening. It was a little disappointing that we couldn't get one of the sweet shelters with the bay view, but at least we didn't backpack that whole trip with our tents for nothing! Setting up camp with our tents we learned Dan and Jacquie had been carrying this MASSIVE tent the whole time. I forget why, either the other one was missing something, or it was all they could get… but anyhow before our next backpacking trip we should start up a get Dan and Jacquie a less heavy tent fund/donation center!