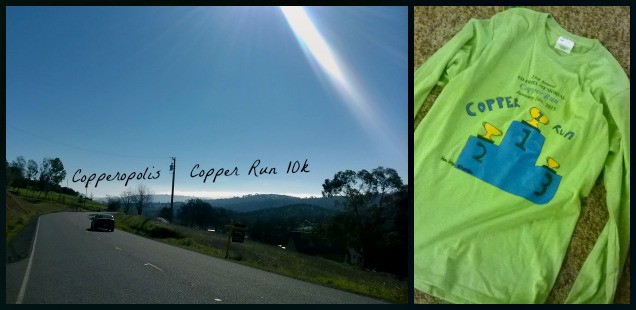 Copper Run 10k: Exploring Copperopolis One Kilometer at a Time
Winter in the foothills is the ideal time for race – at least in the current rainless winter we are having – and whether or not it is raining it has to be better than running in blister hot summer temperatures. The 23rd annual Copper Run was held on January 24th, 2015 and it wasn't raining. It was a beautiful "Winter" day (I mean, I would like to have some rain, but might as well enjoy it).
Copperopolis Copper Run 10K
Start: Black Creek Park, Copperopolis CA. They open up the HOA portion of the park for the run. Map
I read about the Copper Run on Friday January 23rd (the day before) in the Union Democrat, and thought it would be a good excuse to see Copperopolis. Although I have driven by Copperopolis many, many times I have never stopped in the town. It's too close to Groveland to need gas or restroom stop. So although I had only been running 2 or 3 miles at a time recently,I thought I could jog out this 10k. Plus the proceeds go to the local elementary school, so who cares if I was fast. Charity!
This is a nice little local race, the fastest runners being kids from the local running group. I was running a very generic 10 minute mile pace and ended up pretty lonely… just me and the rolling hills and valley oaks. Actually it was really enjoyable, a Run Your Own Race type situation. Like I had just decided to do a jog in a different part of the neighborhood today.
Speaking of hills – the route for this run is one big 2 mile block around Black Oak Drive, Feather Drive, and Quill Rd, then a brief little while on the busy Copper Cove Rd, right turn onto Cheyenne Rd, up this monster hill on paNOOSE rd, and down Cheyenne to do another loop around that first big 2 mile block. The roads aren't completely shut down for the race but the fire and police departments are guarding all the corners of the race and the whole things seemed to run really smoothly for both the runners and the drivers.
I still didn't get to fully explore Copperopolis, I was pretty sweaty after the race from running up that hill, but it was a pretty nice way to explore the countryside. Next time Copperopolis, I will try to understand why you have that peculiar shopping center off of Hwy 4… maybe.