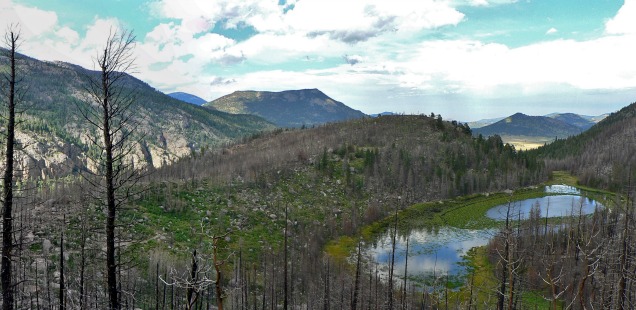 Hiking Cub Lake, Rocky Mountain National Park: Just outside the tent door is something Magnificent
A group of my friends from Michigan Tech – Kris, Kate, Dan, Jacquie, Curtis, & me – have an annual summer trip tradition. This August we explored Rocky Mountain National Park (RMNP), a place apparently known for it's afternoon thunderstorms that time of year! Despite the weather we managed to fit in 4 awesome day hikes over the 4 days we were in the park and still have good time hiding out from the rain in our tents at Moraine Park Campground. This is Beaut-tree's Rocky Mountain National Park day hike mini-guide.
In the previous two years of annual summer trips we had backpacked Isle Royale and Yosemite National Parks through rain and fire… which was an interesting experience. Personally I am always up for a backpacking adventure, but given our track record and a short planning window we decided to car camp during this year's trip. Luckily, and maybe because it was the middle of the week, we were able to score a campsite in the tenting loop at Moraine Park Campground.
On our first day we arrive at the campground in the early afternoon and set about immediately trying to tetris our 3 tents onto the 15ft x 14ft tenting pad provided on the site. Good thing we are all friends?
Moraine Park Campground is listed as one of the "24 Best Campgrounds in the Rocky Mountains" according to Sunset Magazine. Primarily based off of this, the mention of flush toilets (if I am sharing a toilet with hundreds of other people it may as well flush), and lack of noisy generators on this loop I had booked us a few nights in at campsite D143. It was rather close to our neighbors campsite, but given the mass campground situation it was not too bad. And the location is pretty money – shuttles from the campground to the Bear Lake trailheads, views of mountains all around, and lots of bunnies hanging out in the campsite. On the first day, because of our late afternoon start, we simply walked down a connector trail to the Cub Lake trailhead and started hiking to this destination closest to our campground. Hiking to Cub Lake was both convenient, a good warm up to high elevation hiking, and a wonderful little gem of lake.
Hiking Moraine Park Campground to Cub Lake, Rock Mountain National Park
Trailhead: We walked down an eroding (but labeled on the map) path from the end of the D loop down to Fern Lake Road. Alternatively the trail down to the shuttle on the C loop has much better maintenance, or you can drive to the trailhead proper. Map
Distance: 4.6 miles on the trail, about 5 miles including walking from the campsite? The out and back hike was uphill on the way out.
Starting out in Moraine Park – I latter learned a "Park" in this context means a meadow area – we hiked over the chilly Big Thompson River, past the meadow, and started switch-backing up to Cub Lake. The meadow had odd fenced in areas, that latter we learned were to help keep the elk out of the meadow and allow baby Aspens to grow. Good thing I spent the majority of the hike there and back keeping an eye out for elk (wasn't going to happen).
This trail was listed in Backpacker Magazine as a good pick to spot wildlife/wildflowers, which maybe better in the late spring/early fall? We did see a few marmots, bunnies, and wild turkeys though. Personally I was enjoying the views of lush green vegetation after our arid summer in the Sierra. It was so green out there!
Cub Lake itself is a peaceful lily pad lake cozily set into a small forested basin. You need to hike either down and off the trail to the edge of the lake, or further West up the trail to get tree-less view. Or both since you are already hiked there, really I recommend doing both.
More pictures from our hike in the gallery below.