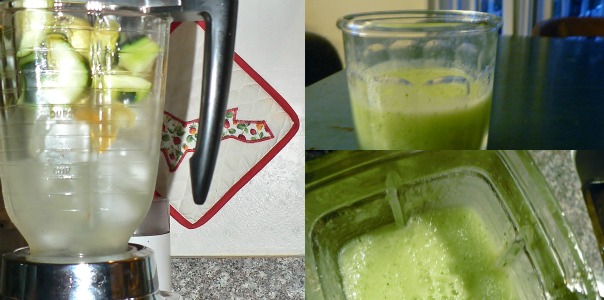 Cucumber Coolers – Cover to Cover Cooking
This cucumber cooler recipe  review is a part of our Cover to Cover Cooking series, where Denise & Jacquie cook the entirety of Hedi Swanson's 'Super natural every day' and share their experiences.
Jacquie's Review:
So there for a while, my CSA box was always full of cucumbers. And I love cucumbers- as a snack with peanut butter, chopped up into a salad, made into pickles…. but eventually I ran out of ideas. And the cucumbers kept stacking up in my fridge, mocking my lack of imagination. Thankfully, Heidi came to the rescue.
Super easy, super quick, and super refreshing, I love these cucumber slushies. They honey makes them just sweet enough without taking over the much more mild cucumber taste.
The first time I made them, I did the whole recipe. Dan wasn't home, though, so I was then stuck with drinking a whole pitcher of it myself. Not that that is necessarily a bad thing… it is just a lot of liquid. I've since cut the recipe in half and felt much better after drinking it all.
Definitely a keeper for cucumber overflows and 90+ degree days!
Denise's Review:
Hold up a minute… People eat cucumbers with peanut butter?! Jacquie, that is kind of weird.
Personally I tend to associate cucumbers as a zesty/savory food: regular salads, vinegar based cucumber salads a'la my grandma, and pickles. But hey, cumbers are almost like watermelons (in that they are watery?), so this recipe doesn't seem too out there – cucumbers  limes, ice, honey… sub that cucumber for a watermelon and you have a normal drink. And really, that is about the same as how I feel about the drink now – it is alright, but I have a slight mental barrier +++ the honey sticks to the blender. Maybe if we made this into a light cocktail then we could talk?