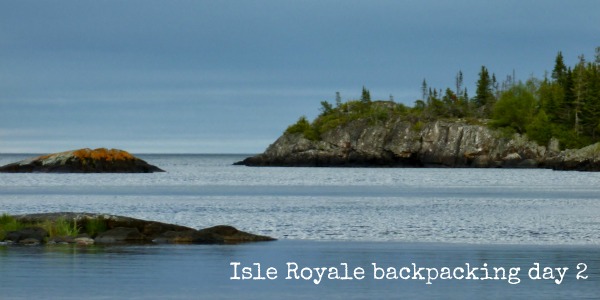 Daisy Farm to Chippewa Harbor: Backpacking Isle Royale Day 2
Over the extended Memorial Day holiday 2012 Curtis and I met up with our favorite backpacking Midwestern friends – Jacquie, Dan, Kris, and Kate – to spend 5 days backpacking Isle Royale National Park. It was amazing to get to one of the US's least visited national parks so near to our alma mater Michigan Technological University and once again feel the chilly breeze, see snow hardy forests, and smell fresh waters of lake superior.
Navigate to the Backpacking Isle Royale Page to read about other days of our trip, or continue on to read about hiking on day 2…
On day two of backpacking Isle Royale the group did not awake, eat, and prepare for our day of hiking very quickly. We were under the impression that we were only hiking to Moskey Basin, a mere 4 mile hike. That was the plan, until Dan found a signpost near the Daisy Camp pier that explained exactly which campsites had fire pits and shelters available.
There are 3 things you should know about fires at Isle Royale:
Isle Royale does allow fires, but ONLY in the designated metal rings and barbeques at specified campsites.
The national park does not make it obvious which campgrounds have fire rings… Until Dan happened upon this signpost.
Once you get to a campground it is then up to chance if you will site with get a fire ring. Sites with fire rings, just like sites with shelters, are first come first serve. Meaning the first people who get there are the ones who can choose to have a fire ring, and also choose if they want to share!
Thus, with our newly acquired knowledge we decided that instead of just going to the Moskey Basin campground (no fire rings), we would Instead go to Chippewa Harbor campground (fire!). We then enthusiastically started on our 10-ish mile hike with our eyes on the prize… fire!
The first 6 miles of the hike went fairly well: all of us successfully jumping over a rushing stream in the trail, stopping for some PB&J at Moskey Basin, and getting just a tiny bit damp from some sprinkling rain as we approached Lake Richie. The trail dried up as it moved up on the ridge (as opposed to the previous day's soggy trek down by the lake), making the hiking go much quicker.
The last 4 miles, as we split off from the Richie Lake Trail to Chippewa Harbor, were in my opinion some of the more difficult trail miles were trekked the entire week.  This section of the trail  it is called the "Indian Portage" trail, allowing canoe/kayakers to portage from Chippewa Harbor to Lake Richie. I can only image how tricky wit would be to portage a canoe down the narrow wet hilly trail between the two destinations!
Despite my pruning aching feet the last 4 miles were still interesting. This portion of the trail has many "Plank" sections. Isle Royale uses planks to make a trail when the path crosses directly through swamps, wetlands, or over major rivers. The pictures at the bottom of the post show some of the many cool little wetland areas we crossed on this part of the trail as we went over the planks.
Luckily the skies cleared up from the off and on rain that we had during the hike as we entered camp. We were one of only two groups at what turned out to be a beautiful campground. That evening Dan made us some delicious bread over the barbeque for dinner, Kris and Curtis caught a crazy big pike, and we all enjoyed the very social campground rabbits and got some well-deserved rest.