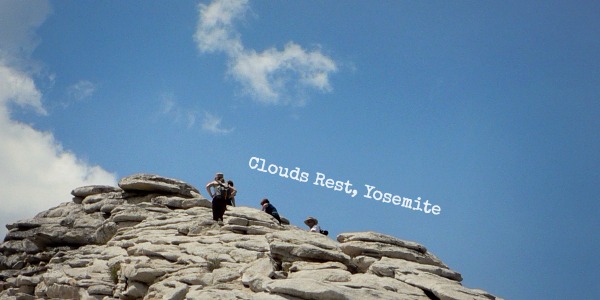 Day Hiking Clouds Rest, Yosemite – Resting with the Clouds
Clouds Rest Trailhead: Sunset Lakes, Tioga Rd / Hwy 120 on the West end of Tenaya Lake
Distance: ~ 14 miles out and back. Good and steep on the way out, with downhill on the hike back.
Curtis re-injured his back the week before I was invited on to hike Cloud Rest hike . The doctors insist he is just getting "old" (which he isn't) and these immensely painful back spasms par the course. The poor guy, sat around at home and watched Star Trek episodes while I was off hiking with our friends Johanna, Tom, Pete, and Neil. When I arrived home in the early evening he was astonished that I was already back, having drove to Tenaya Lake (and back), hiked 14 miles, and stopped for a Goblet of beer in Buck Meadows in well under half a day. Clearly we are now estimating arrival times for backpacking speeds not day hiking speeds. Did you know how fast day hiking is without all the stopping to eat, and pump water, and swim, and engage in hand to hand (feeler?) combat with mosquitoes?!
But yes, day hiking Clouds Rest is not too bad! The 14 mile hike is about the same distance as Half Dome, and gives you arguably a better view, but starts at a higher elevation making the hike not nearly as intense. We started the hike at 9AM-ish from the Sunset Lakes trailhead and arrived on Clouds Rest a little past noon, albeit we were hiking briskly because the impending thunder clouds. The worst portion is the steep climb in the first 2.5ish miles and once you are done with that nothing else along the hike is even comparable… Unless if you are afraid of heights, because then you should prepare for the small stretch right before the top of Clouds Rest -a narrow path past the steep face – which did not phase anyone in our group.
Clouds Rest is a fairly popular hike, but not nearly as crowded as the climb to Half Dome. If you ever do feel crowded by the stories drifting around the peak from everyone and brother discussing the one time they hiked Half Dome/almost died in Tenaya Canyon, one needs only to use the camera zoom to look over at the tiny specks of human beings crammed together on the cables to feel better.
Eventually the thunder clouds did roll in and usher us (and all the sane hikers) down from our post. These Sierra thunderstorms are often a daily occurrence in the afternoons, especially thanks to the recent heat wave that has hit California. From there it was (almost) all downhill from there back to the trailhead.