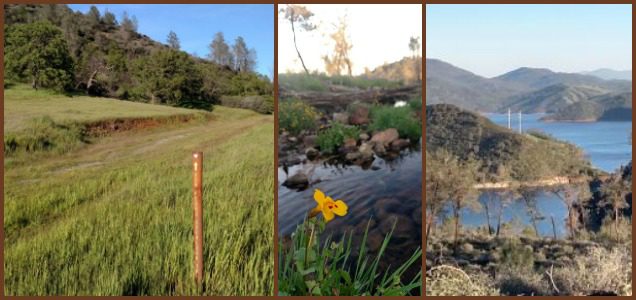 Don Pedro Overlook Trail, Red Hills: Old Gravel Roads, Wildflowers, and Dam Views
I went for a wildflower trail jog in the Red Hills after work yesterday… isn't spring great? I am never going back to the sun setting before 7pm! (Once I figure out how to control that, of course.)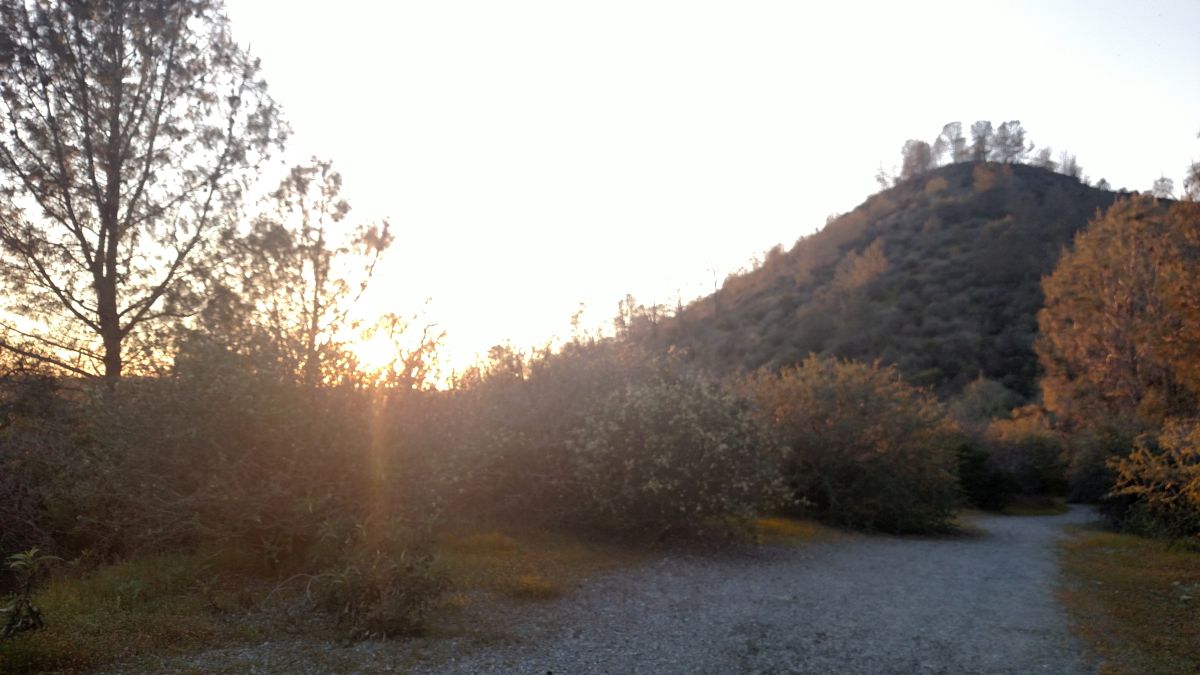 Yesterday's hike was the first time I have started from the trailhead off of Old Don Pedro Rd. Typical I have come in from the Red Hills Rd parking area, or pull outs along the way near Chinese Camp, CA. If you are planning on heading out right now, Spring of 2017, be aware that road closures and access on Red Hills Rd have been limited several times.
Anyone coming in from Hwy 120 East – like Groveland – should be know that the 120 Don Pedro Bridge is under construction. This week (until 4/3/17) there is a permanent closure/detour, but otherwise the road has been closed on most weeknights between 5pm & 7am. More info
Red Hills Road itself has been affected by this winter's storms. The county usually closes the road after storms when the low water crossing are unsafe to cross, but this year the road has been closed longer following rains because the road itself is in danger of failing from the impact of traffic.
These restrictions had me thinking about the other Red Hills trailhead, which I have never tried out before. Located down the narrow Old Don Pedro Rd off of J59, I decided to take a quick hike after work to scope it out.
Red Hills, CA – Area of Critical Environmental Concern (ACEC) – BLM land by Chinese Camp, CA
Trailhead: From Hwy 108 turn south onto J59/La Grange Rd. About 2.5 miles down the road, just shortly after passing the turn for Red Hills Road, turn left onto Old Don Pedro Rd. The trail is located about 2 miles down the road, it is dirt road on your left with a no camping sign posted. Up the one lane dirt road there is a parking area, some of it pretty sketchy for those of us with passenger cars – but some is alright, so good luck! Map
Distance: The Old Don Pedro overlook trail is a little over 4 miles out to the lookout and back, aprox. 500 ft elevation gain. Next time I might try to make a shorter loop by taking the Old Stage Trail between the overlook and a junction on the trail.
The Don Pedro Overlook Trail must have been a graveled road at one point, complete with two low water crossings en route. Off road vehicles are not permitted to use the trail, but bikers, hikers, and horses are permitted. I was jogging yesterday, but after this investigation I would consider mountain biking next time. Looks like a good choice for beginner riders, and I am a weenie when it comes to technical rides.
The spring flowers are just beginning to pop. One clump of lupine near the trialhead, a few bunches of poppies along the trail, and an amazing smattering monkey flowers near second low water crossing. I would think that in the next week (or two) this area might reach it's peak. Check out my first Red Hills wildflower guide here – and more foothills wildflower identification here.
The trail officially ends at a flat turnaround, complete with the promised Don Pedro overlook. It is not high up enough to get a expansive panorama, but to be honest I came for the wildflowers, not the reservoir. It is nice though to see the higher water levels after California's long drought.
Overall fun little hike. I might need to try my mountain bike out here and work up the bravery to try a few side trails – or just enjoy the flowers.