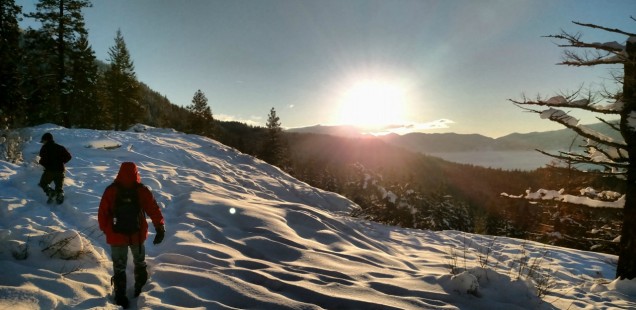 Earthquakes, Landslides, Convict Creek and Pend Oreille
Last week I was visiting Curtis's family cabin up by Lake Pend Oreille in Idaho, which is a stunning place that I feel very special to have been able to visit three times now. Right now the lake and surrounding peaks are beautiful when capped in snow, and the trip requires a boat ride to reach the final destination! That is some real off the beaten path stuff for a family getaway.
This year as we hopped off the boat, Curtis's brother quickly moved into action to repair the cabin chimney that had been jostled during recent earthquakes. Pend Oreille is located along the Hope Fault, and after some quick googling I have found that Idaho is actually the 5th most earthquake prone state in the US. I had no idea!
The Cabinet Mountain Range near Pend Oreille is older than the Sierra Nevada, so my gut reaction is not to think of this area as geologically active. The young Sierra Nevada though, my gut tells me we must be actively experiencing geologic events here. Oh no, am I becoming one of those California people?
Take for example Convict Creek…
The Active Geology of Convict Creek, CA
This summer Curtis, Trails, and I hiked up the narrow Convict Creek Canyon to explore the lakes and metamorphic wonders of this very narrow Eastern Sierra canyon. While preparing for the trip I became fascinated by this warning posted on the Forest Service Website: "Within 1.5 miles from the trail's start, sections of the trail have been washed out by flash flooding in July of 2012. Laurel Canyon trail provides alternate access to the upper canyon. Land slides and hazardous stream crossings make Mildred Lake inaccessible this year."
This is notable for two reasons:
Any avid hiker knows the Forest Service shouldn't use

time sensitive wording

 for anything on their websites; clearly staff doesn't have time to update these things very often. "This year" is now the late summer of 2015, and we were confident in our ability to make it across the stream in fourth year of drought.

Why is the trail not been fixed in 3 years?

This is a popular trail! True, the old bridge did seem a bit excessive… but cleaning up the washed out trail in an amazing place sounds like a solid project for a CCC crew. People would love spend their time building trail here!
Obviously number one is just a goof – which could (but probably won't) get fixed soon. But considering the second point, it really doesn't seem as if there are plans for trail improvements in the near future. Even our purchased trail map advised us to not take the trail during spring runoff – because the map makers had made the decision to print a full run including this warning. That seems like a sure sign to me that this trail isn't going to be drastically improved anytime soon.
Once on the Convict Creek Trail an obvious 'moderate death trap vibe' overcame our hike. This must be why the trail has not made it to the top of the to-fix list! The narrow canyon is gorgeous, but steep, and doesn't have many logical/safe places to build a trail. At one point the original trail builders made the choice to cross the creek (preferably using the now defunct bridge so you didn't get whisked to certain doom in high water), then zig-zag up benches cut in an unstable cliff that is actively experiencing geologic events!!!
I wasn't able to find any information about the 2012 flash flood, but down on the trail (and in the Google Earth images above) it was obvious the landslides are too common to make rebuilding this trail very appealing.  The landslides here are caused by a number of factors – in the case of the 2012 flash flood I would guess water, slope, and unstable rocks.
Interestingly while reading online I found a USGS map describing large number of alarming landslides in 1980 in this same region. These massive slides were caused by an earthquake in the region that combined with the slope and rock type. It is an neat read if you are interested in old maps or geology.
Crazily enough the USGS map/paper concludes with the sentiment of good thing no one lives here. Fair point, USGS, but terrifying if you have a preoccupation with low probability natural disasters while hiking in the Sierra.
The Active geology of Pend Oreille, ID
Unlike the narrow eastern sierra canyons the rockies are big sky country – meaning Curtis's family cabin surrounded by the Cabinet Mountains does not elicit my gut reaction of impending doom. The walls of these mountains don't appear to be falling in on you… but that doesn't stop the area from actively experiencing some pretty cool geology.
New studies have found that instead of the Hope Fault the earthquakes in this region may have been caused by Purcell Trench fault.  This is big news for the Pend Oreille folks because this fault was never known to be active prior the recent earthquakes. One theory is that the Northwestern landmass rotation has activated the Purcell Trench, because while California is trying to fall off the continental US, Washington and Idaho are snuggling in more closely.
I have enough trouble not tripping normally while in my snowshoes, so I was glad no earthquakes visited us while in Idaho. It was a fun trip to kick off a new year of adventures – and get inspired to blog all my trips from last year too! Up in the next week –  the trip report from backpacking Convict Creek!