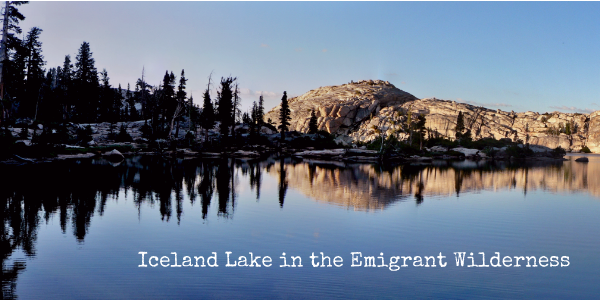 Emigrant Wilderness Backpacking trip to Iceland Lake
The trip to Iceland lake (in the area generally called "Granite Dome's Golden Trout Lakes" by the Emigrant Wilderness Guidebook
) was our first ever backpacking Stanislaus National Forest. Which on one hand might seem weird since we live right next to it, but on the other hand doesn't seem odd at all since Curtis doesn't want to go to the forest where he works on the weekends… right? But, because our super backpacking friends, Jen and Ryan, invited us to meet them up at the lake for a "Granite-palooza" of a weekend – which is so catchy – we HAD to go. ;)
Curtis and I left out of the Kennedy Meadows trail head (off of Hwy 108) at around 11am. I think because Curtis had mentioned that Jen and Ryan's hike (out of a different trail head) was less than 5 miles, I had the misimpression that this was going to be the easiest/shortest hike ever. It didn't take me too long to realize that the 8 or so miles uphill through the dusty horse poop filled trail was not going to be the shortest hike I ever did… But, of course.
It was late fall the last (and only) time I went to Kennedy meadows and it was then dead, the saloon closed & nobody around. Now, in July, it was completely the opposite. It must be because this trail head is a major starting point for anyone with horse or pack animals, but the cabins and camping area is BOOKED. And before you get to the wilderness PG&E (Pacific Gas & Electric) has set a busy little helicopter pad for flying out equipment to their site's in the forest. We got to watch a helicopter! And use their porta-johns!
The most difficult portion of trail was the off trail stint at the end, where after reaching the confluence of the river we crossed to the granite slop and started climbing towards the saddle between two granite domes in the distance. The lack of trail made it so we ran into quite a few overly steep slopes, which we went around, and then zigzagged a bit up to the top. From the saddle we managed to hike along the ridge line swinging over to another smaller saddle where we crossed to Ridge Lake and then down to Iceland Lake. In total it took around 3 hours to go about 2 miles (ugh!). But we managed to get to Iceland Lake at pretty much the same time as Jen and Ryan, since evidently the way they went up ( along a creek that leads to Iceberg lake), was SUPER treacherous, often requiring so climbing skills. Clearly they would not recommend it.
Luckily after the next day was free, allowing us to explore without our packs. We hit up Ridge Lake (where Curtis cause a golden trout), Upper Lewis Lake (where Jen and Ryan caught many brook trout), and Sardella Lake (where I braved the snow melted water temps and went for a short swim). Above the gallery shows how granite-palooza-y this really was – like we were in a Yosemite that allowed dogs which was great for Aspen, Jen's pup.
Leaving the Iceland Lake the next day we went the same exact route out as in, taking WAY less time probably because we knew better of where to go. It did get super-hot as we descended downhill, and I felt a bit like pigpen in a cloud of dusty horse poop trail. If we were to go up to the "Golden Trout Lakes" again I think we might avoid leaving out of the Kennedy Meadows trail head if at all possible (ew). But after a change of clothing and a trip to the local Hwy 108 pizza joint Mia's I have nothing but good memories. Overall a successful first backpacking trip into the Stanislaus.