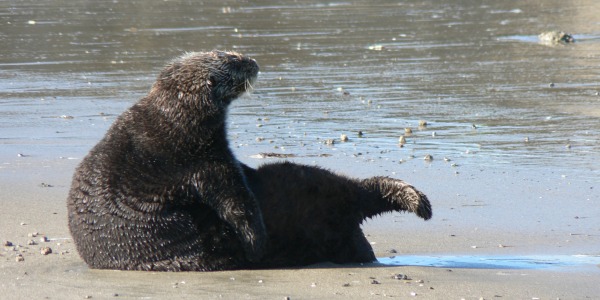 Where to find California Sea Otters – Moss Landing, CA
I  am loath to rank my favorite wild animals, because there are so many cute ones out there (Bunnies, mountain goats, pikas, & quails immediately come to mind), but Sea Otters gave to be somewhere in my top 10. They float around and use tools with their little otter hands, they look so furry and floaty… did I mention they float? ;) AH! Too cute!
Sea otters also play an important function in the local ecosystem, eating sea urchins (which are the unmanned grazing cattle of the sea) and therefore saving kelp forest from wanton destruction.
Happily on my last trip over to the ocean in late January I was able to visit Moss Landing walk along the inlet of Elkhorn Slough, a favorite otter hangout. And guess what I saw… otters!
Sea Otters at Moss Landing
Directions: Moss Landing State Beach is off of Hwy 1, North of Monterey 16 miles. Parking is paralleled the road. map
Distance: we parked near the entrance of Jetty Rd and walked along the beach to the inlet of Elkhorn Slough (where we spotted the otters), but there are trails in the slough I would like to explore some other time when I don't need to rush back to the hotel so someone (Curtis) can watch a football game.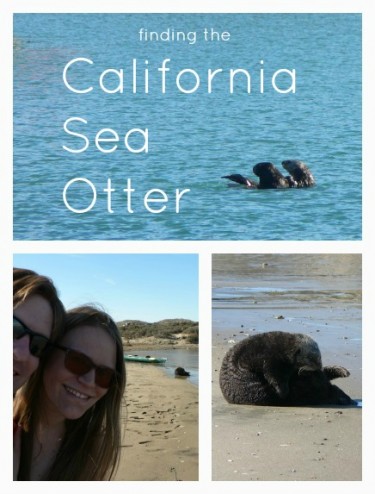 Elkhorn slough, visible from the Moss Landing State beach apparently is the go to place to sea sea otters, which love to hang out in the protected area. Many people rent kayaks to get up close and personal, but I was able to watch two otters playing in the entrance channel with a pair of binoculars for free. Plus one otter came to shore to groom and show off a little just for us!
Curtis and I visited during the middle of the day – noon or 1pm – which apparently worked out. I don't know what hours otters are supposed to be more active though.
If you do want to learn more about the California Sea Otter, including why these cute little guys are listed as threatened on the endangered species list, I recommend the PBS documentary Otter 501. The documentary is about rescuing a baby otter that has lost it's mother. It is simultaneously heartwarming, sad, and adorable. More of my photos in the gallery below.