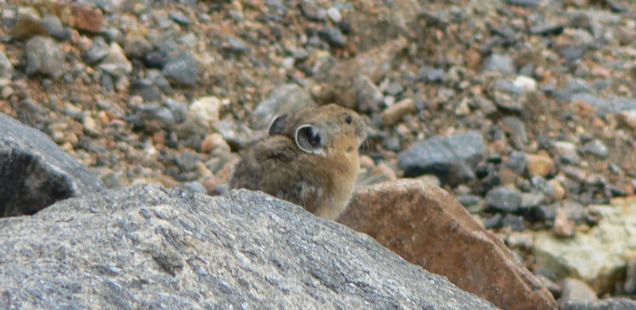 Finding Pikas at Rocky Mountain National Park (and bunnies too!)
A group of my friends from Michigan Tech – Kris, Kate, Dan, Jacquie, Curtis, & me – have an annual summer trip tradition. This August we explored Rocky Mountain National Park (RMNP), a place apparently known for it's afternoon thunderstorms that time of year! Despite the weather we managed to fit in 4 awesome day hikes over the 4 days we were in the park and still have good time hiding out from the rain in our tents at Moraine Park Campground. This is Beaut-tree's Rocky Mountain National Park day hike mini-guide.
Happy Labor Day! Last night I arrived back at home from a week long road trip to Colorado – an annual visit with friends from Michigan Tech. In previous years we had backpacked Isle Royal and Yosemite, but this year we chose to take a more low key approach and car camp and day hike Rocky Mountain National Park. I have so many trails/sights/roadside attractions I want to blog about… but first pikas.
Why am I specifically posting about pikas on Labor day? Well as the sign above so eloquently puts it: "Pikas are the farmers of the tundra."  So to celebrate the achievement of the pika's hard work (and yours) today's blog is dedicated to finding these guys in Rocky Mountain National Park. Plus, because why not, some bonus tips on find their cousin the bunny (the farmer of the prairie & montane habitats?)
Tundra Communities Trail At Rock Cut, Rocky Mountain National Park
Mileage: 1.1 miles on the trail, high elevation but not steep. Alternatively you can just skip the trail and pull over at rock cut to see the pikas right off the side of the road (0 miles)
Trailhead: Rock Cut on Trail Ridge Road. Map.
I had made up my mind that I was going to see pikas at Rocky Mountain National Park (RMNP) after I saw them on the 2014 annual park pass – but I didn't know where to go. In the Sierra pika sightings usually requires some hiking to a steeper mountain talus area, something that might require some convincing for my friends who don't share the same dedication to pikas as I do. At one point a Park Ranger at the Glacial Gorge trailhead had suggested maybe I would be able to spot them around Sky Pond, which we had already decided not to do because of the elevation and weather. I brought up hiking off of Trail Ridge Road but he did not sound too optimistic, thinking that the constant stream of people would scare them off.  (BTW: I still don't know if pikas are to be found at Sky Pond, I wasn't about to force us to race a thunderstorm up the trail just for a vague possibility of a sighting)
In retrospect I don't think that ranger had fielded too many Pika specific question before, because right as I stepped over too enjoy the vista at Rock Cut from the road I heard a tell-tale "Meep!" There they were, dashing around just below the southern slope of the road. They seemed to be enjoying the wind, despite us tourists oblivious taking pictures of the distant mountains above.
The next day, a foggy day in which it started to snow at 11000 ft, we stopped at rock cut again to look at the pikas and take a brief hike up the Tundra Communities interpretive trail. The pikas by the side of the road were not as active as the day before (maybe due to the fog?), but I did see and hear a few more pikas up along the side of the trail. With the fog it was a difficult to see them… but still totally worth it to hear them chirping as we learned a little bit more about their home from the signs lining the trail.
More photos from our hike in the Gallery (& of the Rocky Mountain National Park pika!).
Other Lagomorphs in RMNP
Rocky Mountain National Park might be the cutest national park I have been to because there are bunnies everywhere! We stayed in the tenting loop (D loop) at the Moraine Park Campground where I was able to spot bunnies chowing down on grass near the tent site and hopping past as I made my way to the restroom. Also one bunny was spotted in the meadow in Moraine Park on our hike to Cub Lake (blog about this hike coming soon).
Basically, if you like bunnies or their cousins you should probably go check out Rocky Mountain National Park ASAP.