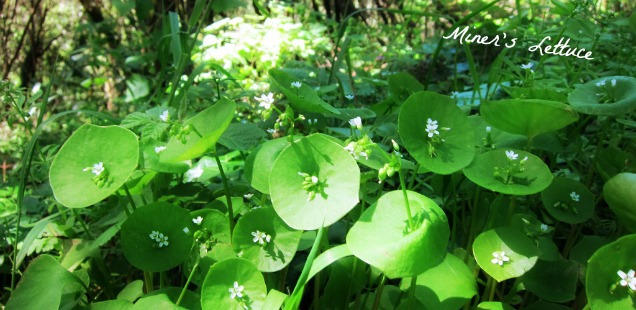 Foraging like Gold Miners: Miner's Lettuce
There is a really cool community of hikers and hiking bloggers on Twitter. On Fridays at 9am PST they do this awesome little session called #hikerchat. Since I have started at my new job I have been unable to tweet in for #hikerchat, but since I wasn't feeling very ambitious today I decided to take this week's conversation topic and run with it – Foraging.
I don't do much foraging, and since I am vegetarian I don't hunt or fish… Although for some reason I got really into Morel hunting last year (I'm thinking it is a natural reaction to find a silver lining to all the fire scarred areas around Groveland). Despite not considering myself an avid forager there are a few finds I am always down for:
Blackberries, mullberries, raspberries – or any other berry I could find in my yard as a kid; and
Lettuce greens from nonchemical treated yards – I'm mostly talking dandelions in the Michigan and miners lettuce in California.
I had never heard of or seen miners lettuce growing up in Michigan, and as a result have come to associate this tasty little guy with the California foothills where I learned of it's existence. It is afterall nicknamed after California gold miners who ate the plant to ward off scurvy.
I still haven't picked a full salad worth of lettuce – instead going for just enough for a brief snack while hiking. But now that I am thinking it consider a miner's lettuce salad officially added to-do list for next spring! Check back in for the latter ;) … & pictures, I know I have taken at least one picture of this before but I can't seem to find any!
If you want to forage for Miners Lettuce try visiting any grassy foothills area in the spring. It pops up in people's yards everywhere and is very easy to identify by it's coin sized lilypad like leaves.