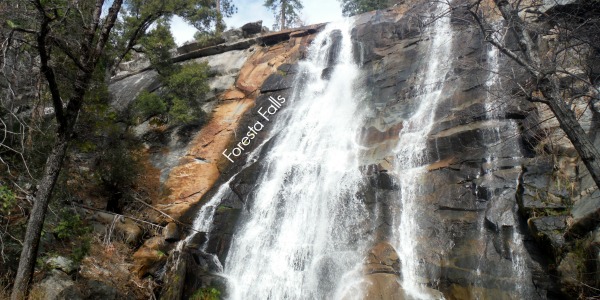 Foresta Falls & McCauley Ranch on Yosemite's West Side
This low snow winter has had me creating some more creative hiking endeavors: Mariposa's Williams Peak, the"Secret" Sierra Point, and now Yosemite's more "Elusive" waterfall – Foresta Falls. It is a nice short little hike, but with lots of room to explore around  the old McCauley Ranch and enjoy some sunshine. Actually come to think of it – it was pretty much the opposite of Sierra Point. At Foresta we hiked on a big maintained fire road without seeing one person, as opposed to bushwhacking on an unmaintained steep-fest "trail"  with a dozen other people to Sierra Point.
Foresta Falls (and McCauley Ranch) Day Hike
Trailhead: Take Big Oak Flat Rd to the turnoff for Foresta, then follow Foresta road down and through private homes (keep left at the fork) until it turns into a dirt road, park in a pull out here (there is no parking by the falls, the road will be closed/difficult to turn around on up there). Map
Distance: It is maybe a half mile walk down the road to the falls, but you can make your hike long by dropping down to see Crane Flat creek or exploring the ranch/pasture.
This was my first trip down into Foresta, despite passing the road for it every time we drive down into the valley from Groveland. It always seemed like a sad little place to me – private land burned in the Arch Rock Fire without a trails anyone thought were worth to mention. But with a snowless winter and a little "Valley Fever" (defined as: The feeling from becoming stuck in the Valley all the time since the passes are closed) suddenly I thought, why not?
As it turns out Foresta is pretty cool, albeit in a weird "Are we still in Yosemite?" sort of way. The falls themselves are located directly behind a single track bridge on a typical forest road, and are much bigger then I was expecting. There is enough space here to have a lunch on the hillside, or if you are really adventurous throw down a blanket in the middle of the bridge since there should only be foot and bike traffic. Apparently Foresta road is a good spot for mountain biking, leading out of the park and down into El Portal via a long and windy ride. I would definitely do it if I had (one) a mountain bike and (two) someone to pick me up at the bottom!
Instead Curtis and I turned around and explored the "McCauley Ranch Extension," a odd square of land added onto the park in the 70s. Here the pasture was previously bought and used as a winter/late life home of James McCauley – the man who commissioned the 4 mile trail, a hotel at Glacier Point, and helped to create the man made firefall. You can enter the fenced in abandoned pasture from the north side through a gate and get a good look at some "Historic" rusting cans and pipes – in theory hiking to the end of the meadow to find old McCauley Barn. The barn is listed on the national register of historic places, but we ended up turning around so I can not vouch for it… let me know if it is still there?
Overall it just seems a little bit surreal – the lack of people, the dirt road you can walk your dog & ride a bike down, private land, abandoned historic sites without signage. We were inside the boundaries of Yosemite, yet it felt exactly like we were on the national forest. Definitely a recommended little diversion away from the tourists and interpretive tours if you get a little "Valley Fever."