Garnet Lake to Thousand Island Lake – Backpacking Thousand Island Lake Day 2
Curtis had been (good-intentionally!) pressuring his brother, John, to come down to visit the Sierra and going hike on the John Muir Trail (JMT) for over a year now… and he did! Over the course of 3 days (Day 1 & Day 3 blogs) we visited Thousand Island and Garnet Lakes hiking approximately 17 miles on and off of the JMT on our through hike from Agnew Meadows down to Silver Lake.  
I am never (or at least not typically) one to rise early on backpacking trips to watch the sunrise over the majestic landscape. It sounds wonderful, and maybe I will someday soon, but normally it is pretty alright to stay in the warm sleeping bag and rest the body. And holy heck it was chilly night – it's not summer anymore California!
What I can enjoy though at the reasonable hour I do wake up at is the mirrored surface of the alpine that is so often present in the calm morning hours.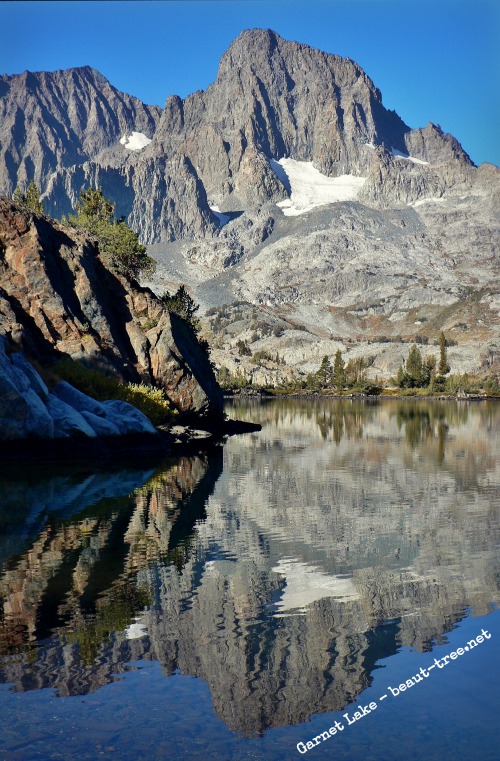 We had a lazy start to the day, Curtis and John got in some morning fly-fishing and I got to wander around photographing Garnet Lake. I wish I could say that I sat around and enjoyed my coffee , seeing as one of my favorite pastimes is sitting on my sleeping pad with coffee enjoying an alpine lake vista, but I tried out a new variety of not-so-good Starbucks Via. FYI: Do NOT get the new blonde Veranda, I normally can deal with the slightly over bitter Via taste, but this one had no other flavors to balance it out (ick). I should probably start trying out these at home so I don't end up on the trail choking one back like a bitter caffeine supplement.
We started our super short 3-ish mile hike to Thousand Island Lake around noon. Extra-curricular exploring included a little off trail climb after exiting the Garnet lake basin (good views of the mountains, Garnet Lake, and just a sliver of Mono Lake was visible in the distance) followed by lunching down at Ruby Lake (Which was not some strange shade of red that I was hoping for – Can we get some Red Tide up here? Just Kidding! Plus is that even possible?
Arriving at Thousand Island Lake we found a good perched campsite on the North side of the lake. I wish it was a warmer day or we might have been able to swim out to one of the many islands, but as it was we went from the briefest dip into the lake and ran back to wind protecting rock shelters to dry off. The evening's nightcap was a giant rabbit coming over to say hello! We want to believe it was a snowshoe hare but it was pretty dark. …To be continued