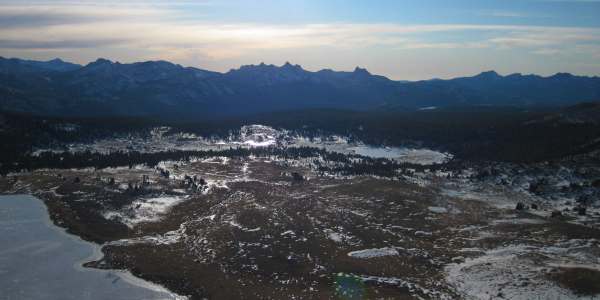 Gaylor Peak Hike
Tioga Pass isn't opened yet – but since almost all of the other passes in our neck of the Sierra are open, I am channeling my anxiousness into a blog post about one of my favorite short hikes on Tioga Pass: Gaylor Peak. Specifically the first and most memorable time was the first during the strangely snow-less 2011-2012 winter, a December Hike with our friend from Michigan Tech, Kris. Or as I like to think of it: Midwesterners representing in the Mountains!
Although the pass isn't open inside of the park, Hwy 120 is currently (4/27/13) open between Lee Vining and the park entrance. To take this hike right now then you will have to park outside and simply walk into the park to the trail head. After hiking up to Gaylor you might want to consider biking Tioga Rd while the pass is still closed – without traffic it is truly a unique way to experience the park.
Gaylor Peak Hike
Gaylor Lakes Trailhead: Start from the Gaylor Lakes Trailhead – located off of Tioga pass/Hwy 120 just inside of the Eastern park entrance.
Distance: 2.5 to 3 miles round trip depends on how far you walk down the ridgeline
This hike starts on the Gaylor lakes trailhead, which travels uphill to a low saddle, then travels back down to the Gaylor Lakes valley. Instead of going down to the lakes we instead headed East and up the red scree slop to what obviously was the top of Gaylor Peak. Although you do not gain much elevation (only ~1000 ft) the starting elevation of trail will make it obvious if you have acquired your mountain lungs.
Why I love Gaylor Peak:
It is a short hike, which means if you are traveling long distance (Say Groveland across Tioga Pass to the Inyo) this is nice hike to get out of the car and stretch your legs without burning too much time.
Although the ridge line is a bit narrow, the peak hike is not super technical  As long as you look out for twisted ankles this once is moderate compared to nearby peaks.
The always beautiful 360 degree view of the Tioga Pass area.
Last, but not least I have seen my favorite Sierra Nevada Critter here: Pikas !
Can you tell I am beginning to get antsy for the pass to open? Soon, I hope! See more pictures of my Gaylor Peak hike with Kris and Curtis in the gallery below.