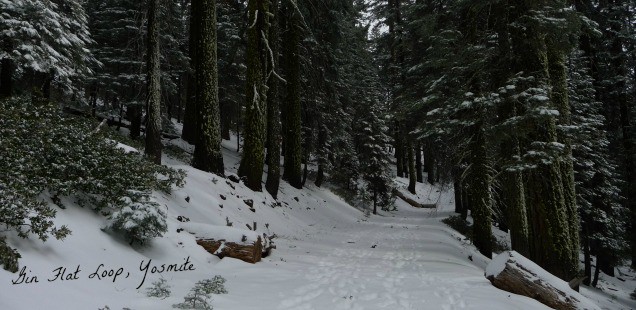 Gin Flat Loop, Yosemite: Snowshoeing & Snow Survey Stations
On Tuesday winter had a short gasp of life & snow fell from the skies very briefly around my home in Groveland. Word is that right now the Gin Flat Loop might be snowshoe-able. But not for long. The state of California hasn't been experiencing a winter season for the last few years, as you may have heard, so obvously there hasn't been much in the way of snowshoe opportunities.
Curtis and I snowshoed the Gin Flat Loop in February the day after a small winter storm came through. I had wanted to do Gin Flat loop after our hike to Devil's Dance floor in order to visit another stop on the Old Big Oak Flat Rd, and as it turned out the snow levels made it so that this loop was the only reasonable option for the snowshoes. They weren't entirely necessary given the minimal snow depth, but I was determined.
Actually, we followed up a team of snowshoe-less snow surveyors that were headed up to the monitoring station at Gin Flat. Gin Flat has been used as a monitoring station since the 30s and is a nicely accessible one for large groups to visit apparently. The LA times had a great article in 2008, California's Water Fortune is Told at Gin Flat, which voiced concern about the snowpack levels in Gin Flat and described the fancy instrumentation being used to monitor the snowpack.  You can check GIN hydrometeorological station, but I think the Snow Depth monitor is either not working or, more likely, I just don't know how to read it. I can guarantee there is not a snow depth of 243 inches up there right now – although the snow water content data seems way more reasonable at 1.68 inches.
Snowshoeing the Gin Flat Loop, Yosemite CA
Trailhead: From Highway 120 head towards the Crane Flat gas station (shop closed in the winter), and turn down the Tioga Road. Yosemite switches the road signs at Crane Flate to indicate snow uses down by the Mariposa Grove in the winter. Park in the Mariposa Grove Trailhead (which has new bathrooms!) and head up Tioga Road past the vehicle closure. Trailhead Map
Distance: My GPS read 5.9 miles, although the official Crane Flat Winter Trails brochure says it is 6.25 miles. Either way is a good trip to start in the morning hours to give yourself enough time. Uphill, but never at too drastic a slope. GPS Map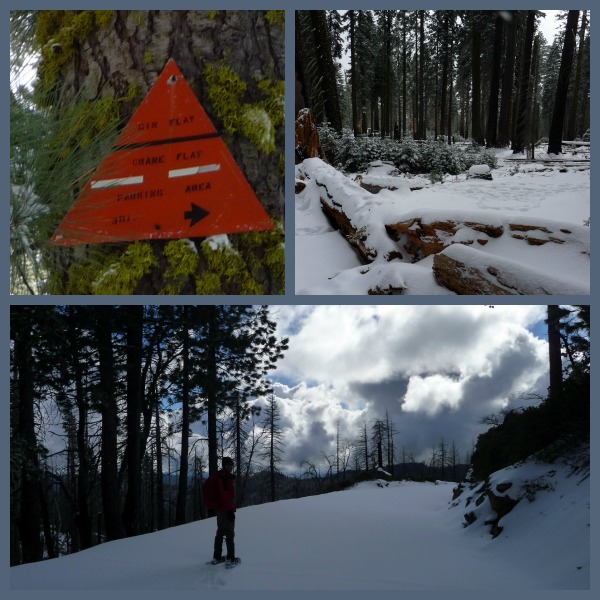 The Gin Flat Loop includes hiking on the Old Big Oak Flat Road alignment, which diverts off Tioga Rd about .75 miles from the Mariposa Grove Parking Lot on the north (left), and then completing the loop by connecting in with Tioga Road at the Tamarack Flat Campground area. The Rim Fire burned through this area leaving a number of downed trees blocking the old road. Between the trees and the minimal snow I was glad we didn't try to cross country ski this time… although the ski down Tioga Road would have been sweet.
There are not many vista opportunities on this loop, instead it is just a nice time to peacefully walk in the snow. Plus, a chance to enjoy the Tioga Road area without any people around. It is amazing to be the only two sets of footprints on a road traveled by hundreds (thousands?) of people daily in the summer.
In case you were wondering the about why Gin Flat is named "Gin Flat" – according to Yosemite Place Names the story behind this one is very similar to Devil's Dance Floor. Meaning, it sounds like it should have a cool story, but really no one knows why it was named Gin Flat. Lost to time, but not to trail namers.