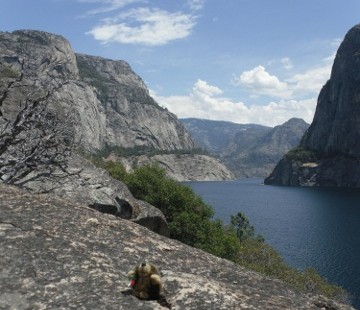 Hetch Hetchy Day Hike or as we like to call it Hetch Hedgehogy: the story of our water source and a brave hedgehog
Hetch Hetchy Trailhead: Evergreen Rd down into Hetch Hetchy Entrance Station, parking lot by dam.
Distance: ~ 4 miles rounds trip to Wapama Falls, we went ~ 1.5 miles past that and in addition got to see rattlesnakes & bears!
Hetch Hetchy is sometimes labeled as the "Secret" Northern portion of Yosemite. Mostly It is referred to as a freaking shame that the US government and the City of San Francisco managed, against John Muir's best judgment, to construct a dam.  The Hetch Hetchy valley if you have not herd was like a "Miniature" Yosemite valley, with it's own falls, monolithic rocks and half dome.
And if you know my interests, you know my profound love for miniature things -like golf- and fascination with human destruction -like superfund sites-, and we just had to go.
Adding to the excitement of the day the little hedgehog that lives in Curtis's car and I realized that the title of Hetch Hetchy is easily convertible to the better title Hetch Hedgehogy (said slowly emphasizing the "Hedge"). Thus the adventure across the dam and to the falls turned into a hedgehog photo shoot, helping us ignore our desire jump into the delicious cool reservoir of our drinking water on that hot day (SUPER ILLEGAL!)
I am on the fence about the restore Hetch Hetchy debate (AKA: tear out the dam and restore the valley), meaning if SF water wanted to hire me I could probably stand to either work with the dam or help to tear it down. Looking at the Restore Hetch Hetchy organization page though, they sound so convinced that it will happen, that who knows? Wouldn't that be an awesome story as a hardened old women to weave about how when I was young that whole valley was 300 ft under water?