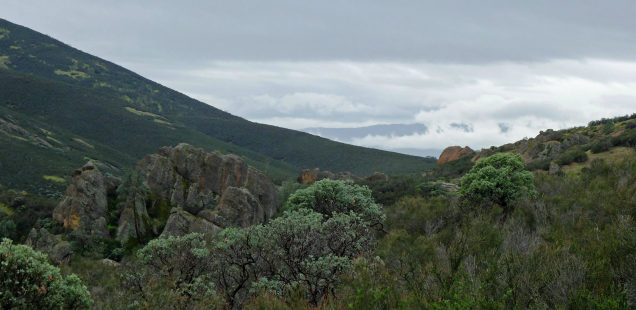 High Peaks Trail, Pinnacles: On the Edge among the California Condor
Happy last day of National Park Week (April 15-23)! Also, Happy Earth Day (April 22), awesome job with the March for Science (April 22), +++ Happy Birthday to John Muir (April 21) and Mr. William Shakespeare (April 23)!
I had an amazing day in Yosemite Valley yesterday celebrating science, Earth, and Yosemite. It was an inspiring afternoon of listening to the speakers and pondering how much more there is still left to discover. The key is to always look and ask questions about the world. With an inquisitive mind learning new things is all but guaranteed.
In February, Curtis and I visited Pinnacles National Park for the long rainy president's day weekend. With the weather being what it was, we went into this one with an open agenda to simply explore. Nope, the caves were not open. And yes, we did forget the binoculars…. Amateur moves! The good news is, I learned you can spot a condor even without the aid of binoculars.
High Peaks Trail, Pinnacles National Park
Trailhead: Head to the east entrance station to the park – CA Hwy 25 south from Hollister leads directly here. We parked at the large dirt lot by the East Visitor's Center (map) and took a short bus ride down to the Bear Gulch Day Use Area.
Distance: 6.6 miles for the loop around the High Peaks and Condor Gulch Trail. 1700 foot gain, see elevation profile here: GPS Trail
We headed around the trail clockwise headed out the picnic area towards Bear Gulch Reservoir. The trail wrapped around some particularly mossy rocks (thanks rain!) before heading uphill towards the pinnacles formations.
Near Scout Peak we spotted a small group of condors sweeping overhead. Near the overlook we met a a volunteer with the Condor Program who had been watching these guys all day. Sighting confirmed, we did not just spot a flock of turkey vultures :)
At this point, I considered the trip "Mission Accomplished." We spotted the endangered condor and enjoyed some views before getting socked in by rain and fog. Even if the rest of the loop was a grey rainy mess, this was a new park win. Obviously, I had no idea what was next on the High Peaks trail.
After Scout Peak the typical trail diverges for a short mile-ish stretch to become more of an "Adventure Park" course. Narrow ledges with handrails guard hikers from the edge, ladder like steps carved into the rock, and soon clogs of people trying to figure out how to navigate this narrow trail together. Unexpected!
So yes, solidly a new park win. Hopefully we will return again sometime soon, this time remembering the binoculars. I wouldn't mind getting to explore those caves sometime either.