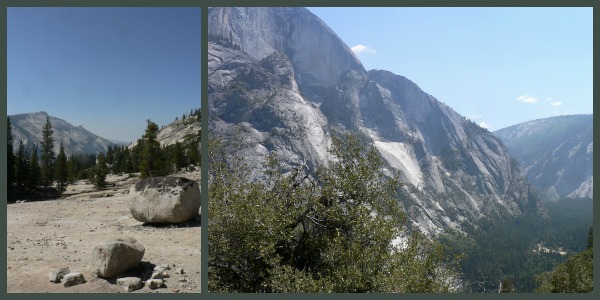 The Yosemite Hiker Bus & a hiking Olmsted Point down to Mirror Lake
Yesterday I drove through the park to get home from Southern Yosemite & the Sierra National Forest (FYI: New backpacking blogs to come!), and was both surprised to see that Hwy 120 through the park is now open for passage! No stopping on the active fire perimeter, but one can get from the valley to Tuolumne Meadows! In honor of this exciting news I am going to post a day hike I did from Olmsted Point to Mirror Lake in early August, with shuttling help from Yosemite's Hiker Bus… This was actually the hike I did the day before Hwy 120 was closed from Groveland to the park due to the Rim Fire.
Yosemite Hiker Bus
I began looking into the hiker bus as a method of shuttling my friends and I up to May Lake for one way backpacking trip down to the Valley. To fit all our gear in Curtis & I's cars we would need to use all of both cars, making the 90 min one way shuttle quite inconvenient! The hiker bus seemed like a perfect solution, but I wanted to try it out to feel out the specifics. And let me tell you, there are some important things to note before you take the bus for a big hike:
The time the bus leaves from the valley is no joke

(find the daily route schedule online here). I arrived at Yosemite Lodge just barely in time, and had to frantically tell the bus driver to wait for me as I went inside to get a tickets. Speaking of tickets…
You can call to get tickets in advance, or get them before you depart. The bus was surprisingly full,  suggesting you should

get tickets in advance if you are going on a popular weekend or with a large group.

Ticketing Stations for the hiker bus:

If you are leaving from the valley you need to get your tickets issued & printed at one of the 3 ticketing offices

– in Curry Village  at a small hut near bus stop 13, in Yosemite Village at a small hut behind the Village Store,  or inside the main office of Yosemite Lodge at the counter to the right of normal check ins. From what I can tell leaving from other destinations is more nebulous.

Long term parking for the hiker bus

: Backpackers can leave their cars at the trailhead parking near the mist trail and walk to Curry Village (this is the official answer about where to park your car), but I was told that parking in the orchard by Curry Village (the dirt parking area) is alright too. Just as long as you make sure your car is bear safe no matter what you do!
When you get on the bus the driver will stow your backpack, and you need to

inform the driver of the trail you need to get off at

. Since I was day hiking and did not need to stow my backpack he let me on without asking my trailhead – and passed it while I was chating with a fellow hiker.  (I was going to hike out of snow creek, but luckily Olmsted worked just as well).
Hiking from Olmsted Point to Mirror Lake
Trailhead: Olmsted Point (despite wanting to start from Snow Creek, oh well what it a couple of miles when you can have a great view to start?)
Distance:  10.4 miles from bus drop off to valley shuttle stop
The bus dropped me off around noon , and being that I have hiked this trail before up to Mt Watkins I took the liberty of speed hiking the first section. For the most part I was only slowed by a couple of peculiar bird sightings… is it normal for the grouse to be so sociable around this time of year, or are they becoming adapted to humans? After passing the intersection with the Snow Creek trail the trail began to descend with some views of north dome and basket dome.
Just before begining my real decent into the valley I was happy to find so many little fish living in Snow Creek right below the bridge crossing. Not many streams are still running at this time in the summer, but it is nice to still see some fishes doing their thing. Although snow creek did have water I was not able to discern the snow creek falls as I went down the trail – it was probably just a slick area on the rock like Bridalveil falls is.
The last 1.7 miles down the trail is the most difficult part, jarring on the knees – but with ample opportunity to stop and enjoy the views of Clouds Rest, Half Dome, and the valley. Some of the switch backs on this trail are so short that they seem more like a twisty slides then a normal switchback, probably one of the reasons this trial is restricted to foot traffic instead of stock travel (additionally it helps reduce the amount of sand and weathered granite on the trail, good for grip). I can not imagine it being fun backpacking either up or down that sucker, but I saw a few people trucking on, and more power to them.
Ending at Mirror Lake, or "Mirror Puddle" as I like to think of it at this time of year, is jarring after spending most of 10 miles alone. More alarming, it smells like you walked into a Macy's perfume counter as you walk past well groomed people, and hope they are not too offended by your smell of sweat and nature. Whatever, I know which one of us would smell more like dinner to a bear ;)
More photos from my hike in the gallery below.