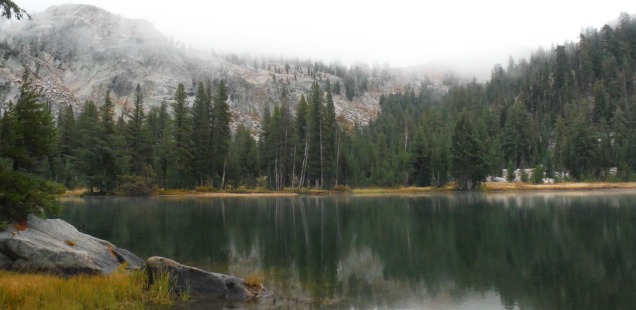 Hiking Bull Run Lake, Stanislaus National Forest Amid Hunting Season
It was one of those weekends where the mountains are plastered in clouds, rain, fog, and at certain elevations snow – while it was a warm perfect autumn day down in the foothills by Groveland and Murphys. Despite the better weather at lower elevations I was determined to head up into the Sierra Nevada Forest. I had failed to wash the tent with waterproofing, so backpacking was out of the running, but it could survive some rainy wet car camping. Better yet, in this weather I thought Curtis and I would have the place to ourselves.
That is until I spotted a caravan of 5 open top jeeps heading towards a dispersed site along the highway – a pack of deer hunters. Categorically  hunters, along with the mailmen and maybe yoopers, are one of the few groups of people I can think of who do not let weather in any way alter their plans. Given only a short period of time for their sport they are out in full force opening weekend rain or shine, determined. Of course we were there too, just a couple of hikers trying not to get in anyone's way!
I  was really uneducated in California deer hunting regulations up until that weekend. To be fair, it isn't a simple – California Department of Fish and Game divides the state into many different zones which have varying tag quotas and opening dates for archery and the general season, although you are only allowed to shoot a buck as far as I can tell. For example where we were hiking near Bull Run Lake is zone D5, and  the season opened that that Friday Sept 26th, but back near Groveland (Zone D6) the season started a week earlier. In general the best way to find out if you are going to be hiking during hunting season is to either ask at a local shop/visitor's center, or determine the zone your hike takes place in and then look up the Season Dates on the California Department of Fish and Game Website.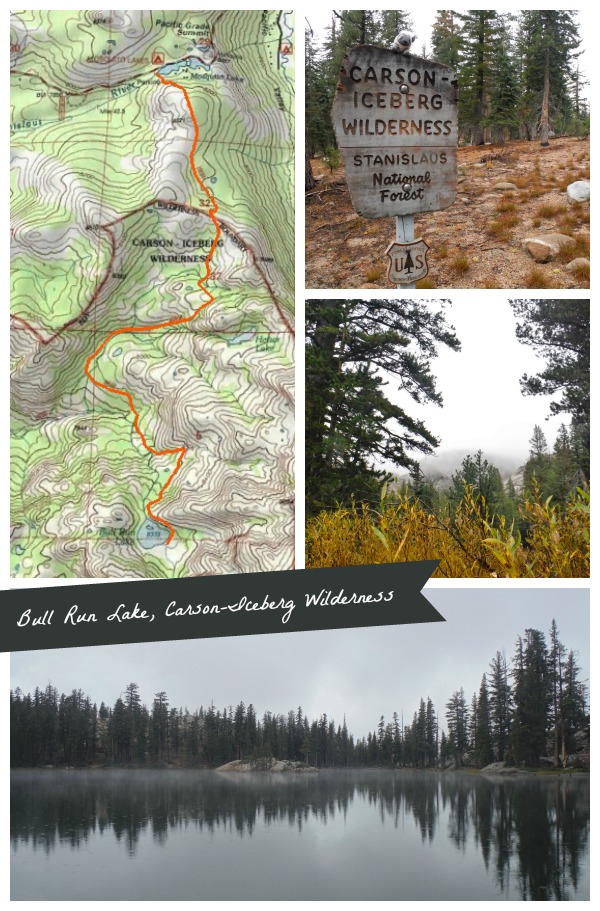 Hiking Bull Run Lake, Carson-Iceberg Wilderness, Stanislaus National Forest
Distance: ~7+ miles round trip. The final destination is only ~325 ft higher than the trailhead but this hike has a few rolling hills that will ensure you get your exercise.
Trailhead: Heiser Lake Trail, parking lot of the west side of the Mosquito Lakes Near Pacific Grade summit on Highway 4. The campground across the street has a latrine, but be prepared for a lack of toilet paper at this time of year. Map
Curtis and I decided to take our chances in the woods late Sunday afternoon, wearing all the brightly colored rain coats/pack covers we could muster up. We ran across a couple hunters at the wilderness boundary and a few closer to Bull Run Lake – but we did not hear any shots, which was a relief for us.
The trail might have offered a few nice views into the Carson-Iceberg, but with the rainy fog we were pretty well socked in. Despite that I enjoyed hiking the in rain for the first time in a long while. It has been a long dry summer here, and though it was only a brief storm the forest seemed to come alive while soaking it all in.
Bull Run lake is a beautiful spot, and would make for a nice summer day hike or short backpacking trip for swimming and island sunbathing. Maybe if it is warmer next time.