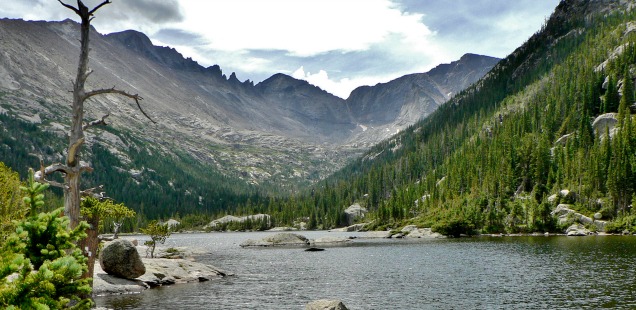 I could have spent all day at Mills Lake, if it weren't for those pesky Rocky Mountain Thunderstorms
A group of my friends from Michigan Tech – Kris, Kate, Dan, Jacquie, Curtis, & me – have an annual summer trip tradition. This August we explored Rocky Mountain National Park (RMNP), a place apparently known for it's afternoon thunderstorms that time of year! Despite the weather we managed to fit in 4 awesome day hikes over the 4 days we were in the park and still have good time hiding out from the rain in our tents at Moraine Park Campground. This is Beaut-tree's Rocky Mountain National Park day hike mini-guide.
I seriously love high altitude lakes, and Rocky Mountain National Park delivers. Yeah, and waterfalls are pretty cool too… but I am just being honest in saying Alberta Falls in RMNP – meh. Maybe there were just TOO many people for a modest amount of falling water (& Yosemite has spoiled me?). Mills Lake though is gorgeous. What I am saying is that if you are starting at the Glacial Gorge trail then the extra couple miles hike to Mills is worth it. I wish I had more time to explore past Mills Lake, but those thunderstorms can really kill a full day adventure. Oh well, better to be safe than sorry?
Hiking Mills Lake, Rocky Mountain National Park
Trailhead: Glacial Gorge, as I said we took the free shuttle – find info about the shuttle here.
Mileage: 5.3 Miles to Mills Lake and back from the trialhead. We added on another brief half mile uphill to get to the Bear Lake Trailhead and check that out before catching a shuttle back.
We hiked up to Mills Lake on our second day in RMNP, taking the shuttle bus from our campground to the Park and Ride then catching another shuttle up to the Glacial Gorge Trailhead. If you have ever had me as a passenger in your car you probably know car sickness is one of my biggest weaknesses and cause of seemingly endless discomfort. FYI: That winding shuttle bus ride – bleh. It was a good idea though, because the Glacial Gorge trailhead parking lot is small, and I am willing to bet you are better off just finding a spot at the Park  & Ride instead of driving up there and having to turn around and do that drive twice.
Also, we saw this elk from the bus.
The hike itself was a mostly gradual, if not constant, incline up to the lake. The trail to Alberta falls is a wide path, as to accommodate the large number of people that hike to this point on the trail, then it does form a more traditional style trail after that point. It is still super busy here, which is to be expected.
Turning the final corner of the trial towards Mills lake the canyon opens up to display Chiefs Head Peak, Pagoda Mountain, and our destination's outlet creek. Here Curtis spotted a water ouzel enjoying the creek, and exciting spot since we had been meaning to see this tiny bird for a while now. The water ouzel, also called the american dipper, is a feisty little bird that loves harsh running waters and was a favorite of John Muir's. Actually I think the way I feel about Pikas might be similar to how Muir felt about the ouzel – You just can not have a bad day when you spot one.
We stopped for a long lunch break and photo opt at the lake – a perfect lunch spot. The lake's water was frigid on a not too hot day, or else I might have considered a short swim. Jewel lake was just a bit further up, but with threatening clouds moving in we decided to hurry down the trail – which does have some exposed stretches to avoid in case of lightning storms. Arriving near the trailhead before rain hit we took a detour to Bear Lake, which I remember visiting with my parents a few years back.  It was both super beautiful and super busy, but there are many more restrooms to choose from than at Glacial Gouge trailhead. Worth it.
More picture in the gallery below.