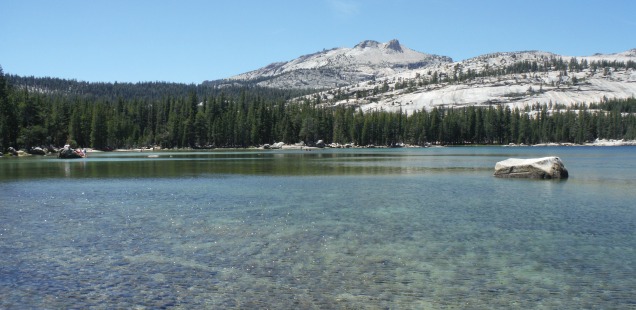 Hiking Tenaya Lake: Why not stop for awhile?
Recently it has been getting hot down in Groveland, which can mean it will be even hotter down in Yosemite Valley. I love the valley, and it is always a must do if you are only going to the park for a short period of time (I might suggest biking, a dip in the Merced, and maybe a hike up the mist trail in the cooler early morning hours) – but if you have the time, may I suggest the high country? As the elevation increases the temperatures decrease, which makes for some more enjoyable summertime hiking. Anywhere out of Tuolumne Meadows is beautiful.
But if it is still too hot, or you are looking for a relaxing day of beaching Yosemite style, then perhaps a visit to a high country lake is in order. Tenaya Lake is the most easily accessible alpine lake in Yosemite, located directly off of Hwy 120, and it is a gorgeous stop. It is hard not to pull over as you travel across Tioga Road if only for a brief reprieve from driving.
Tenaya Lake Hiking
Trailhead: We parked near the Sunrise Lakes Trailhead on the west side of the lake, but you can mix really park anywhere there is parking along the road to access the lake. map
Distance: It is possible to hop out of the car and settle onto a beach here with no walking, but you can make a brief hike out of walking a loop around the lake. The Tenaya lake loop is  about 2.5 miles long. It is a flat hike, but to complete the loop you need to walk along the road and ford the lake outlet (meaning get your feet wet if you haven't already).
I have stopped at Tenaya countless times, including a picnic lunch on my first ever trip into Yosemite on a cross country family vacation, but it was just the summer that Curtis and I spent a full day dedicated to hiking and enjoying this lake. It was a great lazy Sunday – we brought our books and leisurely strolled around the lake stopping at various viewpoints to read, relax, and get a sunburn.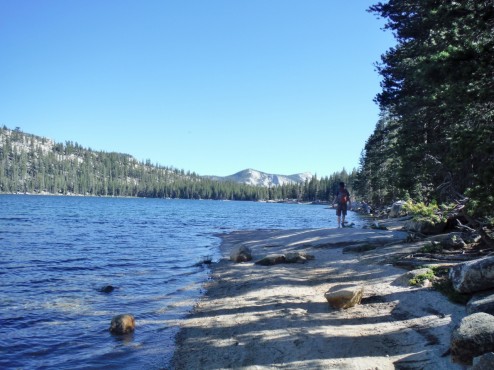 The best beaches are at the East and West ends of the lake, both offering great views of granite domes and cliffs towering over Tenaya's blue waters. Or if you would like to get away, hiking along the South end of the lake you can find lots of little alcoves to enjoy the lake without the crowds. At least until a kayak comes by ;)
Hands down, Tenaya Lake is the quintessential Yosemite swimming spot – why not stop for awhile? More pictures in the gallery below.