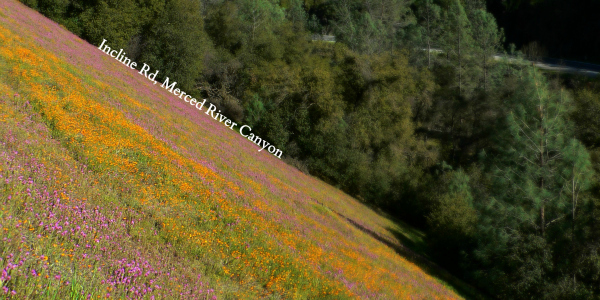 Hiking the Merced River Canyon – with a pup!
Talking to my parents yesterday on the phone I realized how amazing my California spring has been. For California March did leave us much like a baby lamb frolicking among the wildflowers – Sorry snowy Michigan! This is most obvious (and literal, if you bring your own lamb! ) when you look at the crazy amazing wildflower displays along in the lower Sierra.
California spring is in the air as you travel into Yosemite from the El Portal Entrance, with massive fields of orange poppies along the hillsides. If you are visiting Yosemite for the waterfalls right now, I must urge you to stop and hike here outside the park. And since you are outside the park feel free to bring your dog… Or, as Curtis & I did, your friend's dog!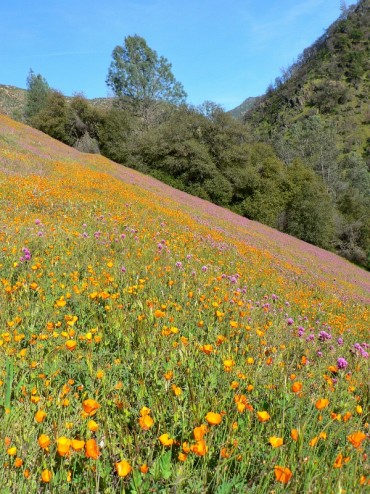 As I briefly mentioned in my previous post (attempting) identifying wildflowers we ended up picking our hiking route based on the dog-friendly factor, even though there are multiple more rustic hiking trails in the El Portal area. I had mapped out several different possibilities including the Hite Cove Trail and the Merced River Area BLM land. Though consider yourself warned, those nice rustic trails are BUSY this time of year. A small busy trail can be stressful with a large dog in tow.
Hiking Incline Rd, Merced River Canyon & Sierra National Forest
Trailhead: West of El Portal take the Foresta Rd bridge over the Merced, then immediately turn left onto Incline Road. The narrow Incline road goes past many nice looking forest service campsites, then turns to gravel before you reach a gate. Park here and start hiking past the gate.
Distance: About 4.5 miles out and back (2.25 miles each way).  The trail is really a service road that runs parallel to the North side of the river, which ends at  where Hwy 140 crosses the North side Merced to via a small aluminum bridge to avoid a landslide that happened a few years back.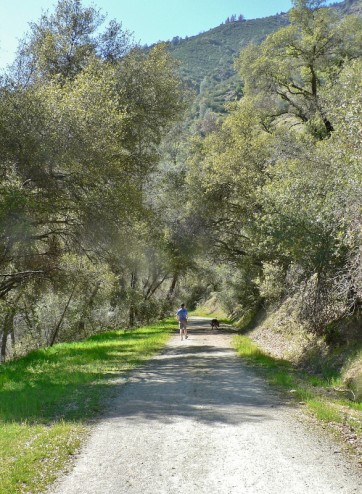 When Curtis was helping find out locations for a wildflower hikes he forwarded an email from the local Sierra Foothills chapter of the California Native Plants Society (CNPS), which listed Incline Rd as one of their first wildflower hikes of the year. I can see why the CNPS would love this hike – it does have an amazing variety of wildflowers but is still wide enough for a large group to hike and discuss without blocking the trail or crowding someone into a poison oak patch. Which happen to be two big pluses when you have a dog along too!
Additionally this trailhead was far less crowded than the popular Hite Cove trail, which makes sense since it is parallel to hwy 140. Why get out of the car for the same scenery? Because you need to stop going upwards of 50 mph to actually look at the wildflowers and enjoy them! Those colored hillsides look much more impressive once you leave the dashboard behind. Besides, it is too curvy throughout this stretch to really have a good focus on anything other than the road.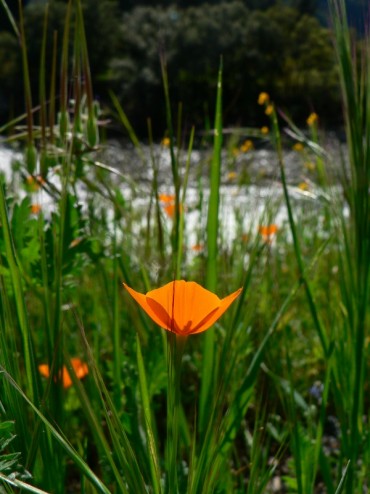 As far as I know the wildflowers are still blooming, and probably will until late April/early May – there is still time to hit up Yosemite wildflower season! I love the following quote my Ralph Waldo Emerson ("The earth laughs in flowers") because it is true how a simple flower, both on your kitchen table or on the trail, can brighten up a day. Simple & Beautiful!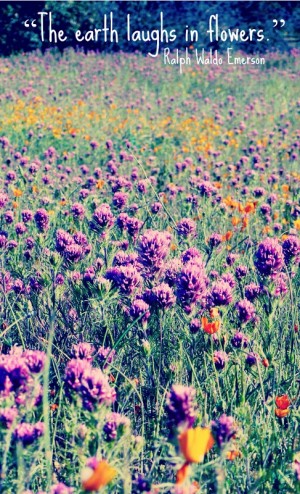 See more photos from our hike in the gallery below: