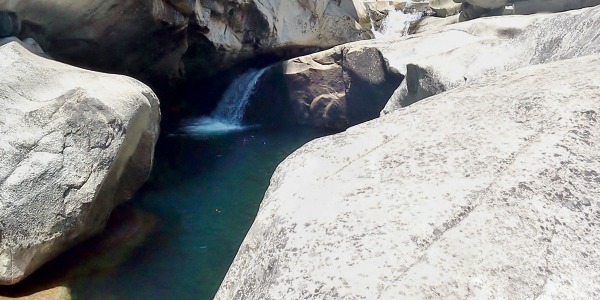 Hiking the Wild and Scenic Clavey River to God's Bath
2015 Summer Update: Many of the parts of the Stanislaus National Forest that were closed to the public last summer because of Rim Fire dangers are now open again. Please use your common sense when attempting this or any trail – don't go if there is a sign that says no access/closed/etc (yes, even if someone knocked it down or moved it out of the road). Check in online to see if there are any alerts or closures in the forest at http://www.fs.usda.gov/alerts/stanislaus/alerts-notices or call in ask in person.
The best swimming holes, like hot springs, are supposed to be secrets. Bring only your good friends, or those friends who always bring the best river beers, but for the love of all that is holy don't broadcast that stuff. To be fair, God's Bath isn't much of a secret in Tuolumne County. I found this swimming hole via a Visitor's Magazine website when I moved here.  When I showed up to park the road was positively crowded with vehicles and people.
Even if God's Bath isn't a secret, please respect it as your own. These pools are great little escapes that we all share. If you pack it in, pack it out. Don't bring down glass, for the obvious reason that granite, glass, and bare feet don't mix. You could even be a rockstar and pack out any trash you find along the way.
Hike to God's Bath
Directions:  http://swimming-holes.info/item/gods-bath/
Distance: Approximately one mile up to the swimming hole, and then one mile back.
We started our trip at at around noon, which was a hard time to find parking, so I ended up parking in some sub-prime pullout with a brief walk to get to the bridge. While heading out we saw a good deal of families packing coolers, which in retrospect is a real commitment for whoever has to carry that sucker down into the canyon. The user path into the Clavey River Canyon starts from the Northeast corner of the bridge.  There are ropes here to assist you in lowering down the steep and sandy trail. And, just to ensure you know you are in Tuolumne county, there is poison oak around. Now is the time to consider investing in a backpack cooler if you carried that sucker down here.
After you reach the bottom of the canyon from there on out is it comparatively simple rock hopping/wading upstream for the next mile until reaching the pool. There are few smaller nice little swimming areas before the "Official" God's Bath pool, which are nice to avoid the crowds/let your dog go nuts… But I mean, really, if anyone has gone through the effort of getting down from the bridge then they should at least get a look at the official pool, it is quite beautiful.
It was an early Sunday afternoon, and as I mentioned this swimming hole is not a secret, meaning it was pretty busy. The Sunday crowd did seem nice though, a mix of families and friends. When we arrive one of more stagnant water holes had become a trash pit (most likely from the previous Saturday night), but one person volunteered to step in an scoop up the trash and some other couple took the trash back up and out. Which goes to show that people do care about this place, even if it sort of a giant party down there.
As we were leaving Curtis said we was glad we went, although maybe we wont ever again. The trip over from Groveland – or even Sonora – is a lengthy windy car ride, which seems silly when we have swimming holes nearer to us. What was not silly is finally getting down to on of the few places where the average person can see the illusive Clavey River – plus enjoying a really amazing granite pool. Definitely worth checking out at least once.