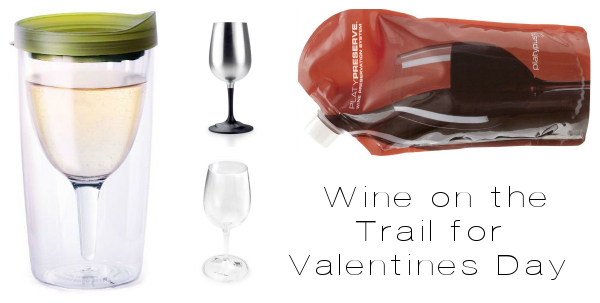 Hiking Wine Glasses for Valentines Day & Camping Dates!
With Valentines Day tomorrow romance is on the mind- & the stereotypical kind at that – like hearts, chocolate, flowers, & wine. All of these things are actually pretty prominent when hiking, which is probably why getting outdoors with you significant other is always such a great "Date":
The natural flora (flowers),
Trail mix or a snickers bar if your lucky (chocolate), &
Cardiovascular exercise (hearts)!
But we all know what is missing from this list – The Wine! Curtis and I don't often bother bringing hiking is our wine because it is bulky, heavy, and occasionally fragile. But a glass of wine can really take a backpacking dinner or snowshoeing picnic up a notch from average to super fancy. Luckily the powers that be in the outdoor gear world have decided that outdoor wine connoisseurs deserve a glass on the trail and have been designing some fancy new products to get your drink on outside!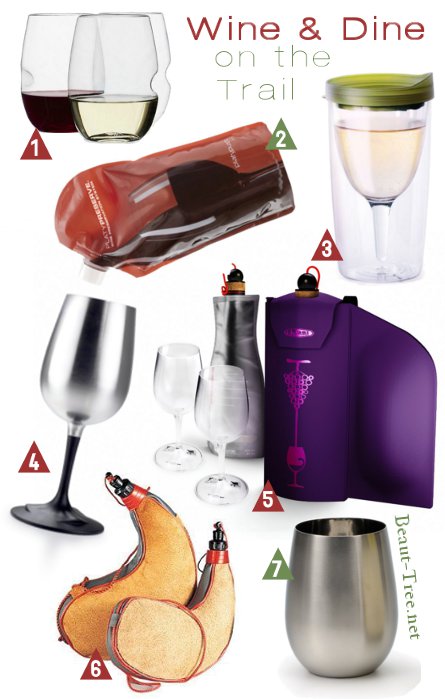 1. Govino Recycled Wine Glass
▲ 2. Platypus Platy Preserve Wine Preserver, 800ml
▲ 3. Vino2Go Wine Tumbler
▲ 4. GSI Plastic Wine Glass
▲ 5. GSI Wine Glass Gift Set
▲ 6. Spanish Wine Bota
▲ 7. RSVP Endurance Stemless Wine Glass
Hiking Wine Glasses
Hiking wine glasses are not made out of glass, so should they more accurately be referred to as hiking wine goblets? Wine cups? I have found the hiking wine vessels come in any assortment of plastic and metal with and without stems. I think it is pretty handy how the stemmed glasses from GSI allow you to remove the stem for better backing inside a backpack. AND would you look at that wine tumbler? That is SO unnecessary, but amazing! I want to bring that to all of the outdoor concerts – all of them.
Additionally, I didn't include this one in the collection – but did you know there are Red Solo cup wine glasses? They are not name brand, of course. Which is probably for the best because I was drinking out of one last weekend and the redesigned red Solo cups are weird. While they are red, these are not quite romantic/classy enough for my inner wine snob, so we are just going to pretend we didn't see them…
Hiking Wine Carriers
Although you could just jam a small (or large, no judging) box of wine in your backpack, it is nice to know there are options to bring along you personal favorite Tempranillo (or Charles Shaw, again we aren't here to judge, but perhaps if you are TRYING to be romantic and not just have a regular Tuesday night… just think about it). Platypus's wine bladder has been around the block a few times and I have seen quite a few out in the backcountry. If you want to go really old school a Spanish wine bota would survive a pirate ship invasion and the Spanish plaque – but is usually leather, which isn't my style. Plus, GSI is even getting into the market now with a new wine bladder that clams to be easier to fill and less likely to splash – sounds well worth a try if you don't want any drunken bears wandering around your camp!
+++ Earthy Wine Glasses for at home!
Just because you can't get outside this Valentines Day doesn't mean that you can bring the outdoors in! Perusing Etsy I have found many beautiful earthy wine glasses that should help do just that.
Wine Goblets to bring the outdoors in.

Treasury tool supported by the dog house
And since we are talking wine  I will leave you with this Mad Men gone Hiking reference: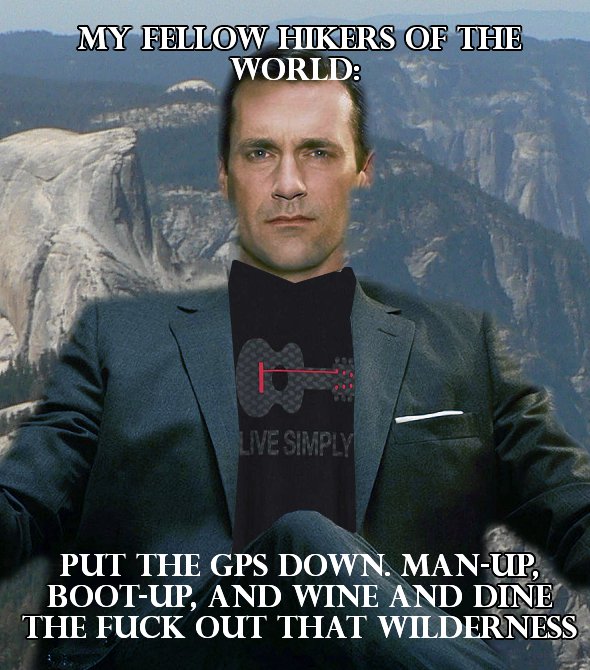 (see original here)